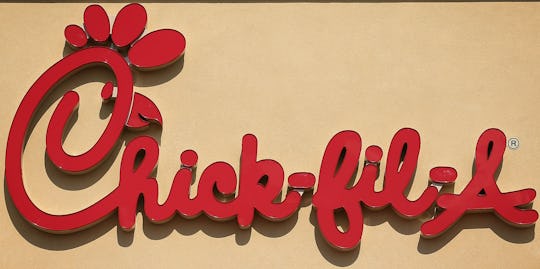 Alex Wong/Getty Images News/Getty Images
Chik-Fil-A Is Giving Away *FREE* Nuggets For A Whole Month
There are few things in this world that people like better than getting delicious free food. Especially when it's free food you would have paid for anyhow... let's get real, free food that you didn't really want is just not nearly as good. But do you know what's next level wonderful? When you combine free delicious food with sending your kids back to school. That's right, Chick-Fil-A is offering free chicken nuggets for the month of September, so I guess it really is the most wonderful time of the year.
Chick-Fil-A has become widely adored not just for it's wonderfully greasy chicken sandwiches but also because the fast food chain loves to give away free food for all sorts of different reasons, apparently. This time around Chick-Fil-A will be giving away an 8-piece order of chicken nuggets, either original or grilled, starting on August 30 and running through until September 29. There's a bit of a catch, of course, because this is real life and there is always going to be a catch. You can only get these tasty nuggets if you sign up for the Chick-Fil-A One mobile app. But the good news is that it's free to download the app. So those free nuggets are really and truly free nuggets.
The Chick-Fil-A One mobile app is a rewards program that helps users earn more rewards, also known as sandwiches and such, every time they spend money at one of the more than 2,300 restaurants across the country. The app was recently redesigned and now includes three levels of rewards; there's the original Chick-Fil-A One Member, Chick-Fil-A One Silver Member, and Chick-Fil-A One Red Member. If you're really competitive and want to reach the silver or red level of membership, you have to earn 1,000 points for silver in a year of 5,000 for red. But all you have to do to earn points is eat a bunch of food so it's not like that should be a terrible hardship, right?
So here's how you get to those tasty free 8-pack of nuggets for the month of September. You go ahead and download the Chick-Fil-A One member app right here, or if you're already a member you just sign in as usual. Quick sidebar; I'm always happy to see that promotional specials like these are not just ways to draw in new customers but also include existing customers. Nice. Once you've either signed up or signed in to the app, the nuggets will automatically appear in the "My Rewards" section. Remember to use the app between August 30 and September 29, since the free nuggets are only available for one month. Now here's a supplementary suggestion for you; pick up those nuggets with some dipping sauce and eat them yourself while the kids are at school. I promise you they will taste 35 percent more amazing, and there's just no way 8 nuggets will successfully feed more than one person. So why shouldn't it be you?
It's actually a pretty great promotion, because I don't really know that many people who wouldn't love some free nuggets every now and then. And the people of Chick-Fil-A seem pretty happy to show their appreciation with free food. As Kaitlyn White, senior lead of the Chick-Fil-A One membership program, said in a statement:
We want to thank the millions of customers who have joined Chick-fil-A One on our mobile app, and this is just a small way to show our appreciation for dining with us.
There's pretty much no downside here, guys, so definitely get over to a Chick-Fil-A after Thursday and grab your free nuggets.