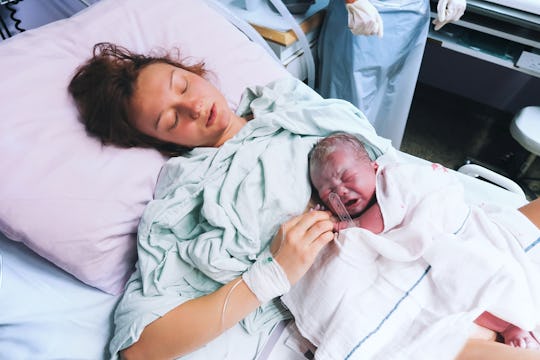 Natalia Deriabina/Shutterstock
7 Ways Society Totally Understates How Extreme Childbirth Is
Childbirth used to be this huge deal equally celebrated and feared by women and men alike. I remember that my first foray into learning about childbirth was by watching it on video in my sixth grade classroom, surrounded by all of the girls in my health class. It was shocking, and more than a little scary, but our teacher brushed off our concerns with a simple "But don't worry, women do it every day." Now, as an adult, I frequently lead stories that play it down like it's nothing, and it's infuriating. The ways we understate how extreme childbirth is does a disservice to moms and women as a whole.
The news stories surrounding childbirth tend to look at it as a rote occurrence that isn't truly a disruptive factor in a woman's life. It has not even been a blip on the radar of the United States until this election cycle that just so happens to be chockfull of female candidates. We hear about "orgasmic births" and "bikini cut" C-sections. The first is something most women can not achieve, and the second is a cute name for the gaping hole cut into our bodies through which our organs are displaced and babies are pulled from the viscera of our loins.
I'm not saying that we should return to the days of dark fear over the prospect of childbirth. What I am saying is that it's an extreme action for our bodies to accomplish, and that by downplaying it, we're only hurting ourselves by allowing society to place expectations upon us during a time when we should be healing. We are also negating the true impact it has on women, and the emotions that surround us.