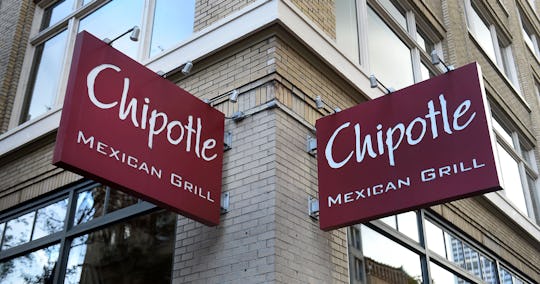 Getty Images
Chipotle's E.Coli Spreads To 3 More States & The Guac Sales Are Suffering
Sometimes you have to take the good with the bad. Good? Baby West is here! Bad? The Chipotle E. coli outbreak has spread to three more states. Enter sad face emoji here. In late November, the Center for Disease Control reported that the E. coli outbreak had spread to six states, mainly contained in Washington and Oregon, with a few cases in New York, California, Minnesota, and one outbreak in Ohio. And it's not really contained yet. Now Chipotle customers in Pennsylvania, Illinois, and Maryland are being affected by the E.coli breakout, bringing the total number of illnesses up to 52 people. And the worst part — the CDC still doesn't know what is causing the illnesses, meaning it may be a while before people get the guac fix.
Now if you really can't resist a burrito bowl, you can still take your chances at Chipotle. Provided the restaurant is open. Since the initial outbreak, Chipotle has closed 43 restaurants to undergo a deep cleaning and follow CDC protocol. The stores have since been reopened, but they are taking a hit. According to the Associate Press, the food chain's sales have been "extremely volatile" since the news first broke in November. They're projecting that earnings will drop to around $2.45 and $2.85 per share for the quarter. At this time last year, the company was at $3.84 per share — that's gotta hurt.
But even though the sales have dropped, people are still showing their support for the fast-food chain. People still love Chipotle, and are willing to eat their despite the risks.
All Chipotle needs to do is find out where the E.coli is coming from and get rid of it, and people will be lining up to get their fix. So get on this, guys. We want our chips and guac back!
Image: Steve Dykes/Getty Images