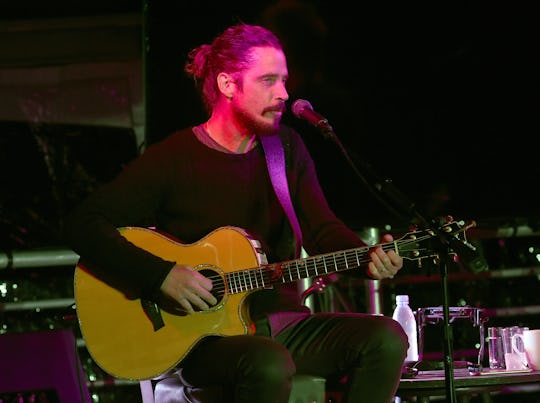 Kevin Winter/Getty Images Entertainment/Getty Images
Chris Cornell's Last Tweet Is Heartbreaking
On Thursday, music fans woke up to the tragic news that rock and grunge legend Chris Cornell had died suddenly Wednesday night in Detroit, Michigan. The 52-year-old lead singer of the band Soundgarden performed at the Fox Theatre in Detroit Wednesday night, and the band was scheduled to perform in Columbus, Ohio on Friday for the Rock on the Range Festival. Detroit police are investigating his sudden death as a possible suicide, according to The Washington Post. Judging by his Twitter feed, Cornell seemed to live a vibrant life, even in the hours leading up to his death. Chris Cornell's last tweet showed he was living his life to his fullest, and excited to be in Rock City for Wednesday night's performance.
Update: Chris Cornell's death has been ruled a suicide by hanging, according to the medical examiner as reported by the Associated Press.
"Finally back to Rock City!!!!" Cornell's final tweet said, captioning a picture of the marquee at the historic Fox Theatre. He ended his tweet by tagging Soundgarden on Twitter, before adding the hashtag "#nomorebullshit." Cornell posted his last tweet at 8:06 p.m. local time; their sold-out show was scheduled to start at 8 p.m with The Pretty Reckless as the opener. In a statement provided by the rocker's publicist, Cornell's wife Vicky and his family have asked for privacy as they proceed with an investigation into the circumstances of his death.
On March 10, Cornell pinned a tweet to the top of his profile page promoting his latest single, "The Promise." The lyrics to the song's chorus are particularly haunting: "I promise to survive / persevere and thrive." The song was tied to a film of the same name, starring actors Christian Bale and Oscar Isaac in a story about the Armenian genocide, released last month.
The rest of Cornell's Twitter feed showed much love and optimism. Especially heartbreaking are the two tweets Cornell posted on Mother's Day: One to his wife, Vicky Karayiannis, and another to his mother-in-law Toni Karayiannis, specifically thanking her for bringing "the love of my life" into this world. Karayiannis is Cornell's second wife and they have two children together: a 12-year-old daughter named Toni and an 11-year-old son named Christopher. Cornell was also the father of a 17-year-old daughter named Lillian, with his first wife, Susan Silver.
While the cause of Cornell's death is still not yet known, he struggled with drug addiction for much of his life, but has been sober for several years. In an interview with Rolling Stone, Cornell revealed he began daily drug use at the age of 13. In a 2016 interview with The Tampa Bay Times, Cornell offered this chilling and inadvertently prophetic quote, when responding to the high-profile deaths of musicians Scott Weiland and Prince:
What ends up happening with musicians and actors is, they're famous, so when somebody has an issue, it's something that gets talked about. People die of drug overdoses every day that nobody talks about. It's a shame that famous people get all the focus, because it then gets glorified a little bit, like, 'This person was too sensitive for the world,' and, 'A light twice as bright lives half as long,' and all that. Which is all bulls---. It's not true.
Chris Cornell, you will be missed.