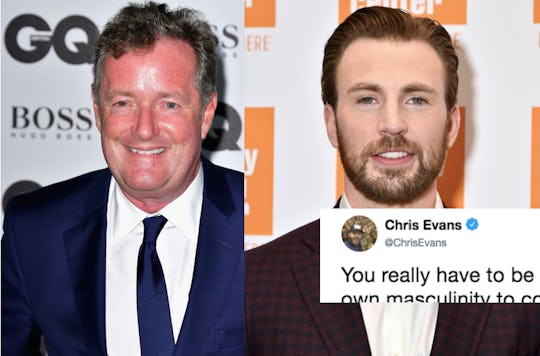 Theo Wargo/Getty Images Entertainment/Getty Images Gareth Cattermole/Getty Images Entertainment/Getty Images
Chris Evans' Response To Piers Morgan Calling Babywearing 'Emasculating' Is Perfection
Captain America to the rescue, indeed. You may have heard that on Oct. 15, Piers Morgan — a presenter on Good Morning Britain and a journalist — tweeted a photo of James Bond franchise actor Daniel Craig babywearing his baby daughter, and apparently, he had some sort of ridiculous issue with the actor traveling with his baby that way. He tweeted, "Oh 007.. not you as well?!!! #papoose #emasculatedBond," and got a lot of, shall we say, strong reactions to the post. But Chris Evans' response to Piers Morgan's "emasculated Bond" tweet was easily one of the best reactions out there.
First, some backstory: Craig has a 1-month-old daughter with his wife, actress Rachel Weisz, according to the Daily Mail, and was recently seen running around New York City with her. As most parents are probably aware, one way you can get around or run errands when you have a newborn to take care of is by carrying them on your front in a baby carrier or other form of babywearing device. That's exactly what Craig was doing in the photo that Morgan took such an issue with.
And after Morgan posted the photo of Craig with the absurd caption he chose, Evans decided to strike back at the presenter with a tweet of his own. In a retweet, Evans responded to Morgan's "papoose" post: "You really have to be so uncertain of your own masculinity to concern yourself with how another man carries his child. Any man who wastes time quantifying masculinity is terrified on the inside."
And Twitter loved it.
The replies to Evans' response ranged from "You couldn't be more correct Chris," to "I think I'll take the side of Captain America and James Bond when it comes to what does or doesn't define real masculinity."
And in a delightful development, a lot of dads started replying to Evans with photos of themselves carrying their kids similar to the way Craig is in the photo Morgan was so upset by. Other photos tweeted at Evans or Morgan featured dads proudly showing off photos of themselves on outings with their little ones even if they weren't babywearing in the photos.
Even Dictionary.com got in on the discourse, tweeting: "Piers Morgan, we double checked the definition of emasculate. There's nothing about being a load-sharing father to be found there."
There were a lot of great reactions to Morgan's tweet, but Evans was particularly spot on because it identified a greater issue at play: societal and personal expectations of masculinity, and how it's no one else's business whether other men are doing masculinity the same way you are. His response pointed out that quantifying masculinity is a waste of time, and how it's not at all Morgan's business if one of the guys who plays James Bond wants to babywear his daughter while he's out and about.
Later, Morgan responded to Evans replying, tweeting, "Captain America wouldn't wear a papoose," and further proving that he missed the point entirely. And for the record, I'm pretty sure the Captain America of the Marvel Cinematic Universe would, in fact, wear a "papoose," and more importantly, he would probably rock it.
Morgan also claimed in another tweet response that "James Bond would never use a papoose to carry his babies," and I think it's safe to say: we should just let Craig be the judge of that one.
If Morgan isn't a fan of babywearing personally, that's his own business. But it's not his business to judge other fathers for keeping their kids close while they go about their daily lives, and Evans' response captured that perfectly. I truly believe Twitter just wouldn't be the same without him.