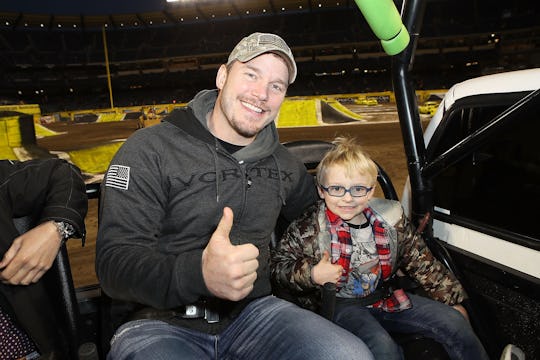 Ari Perilstein/Getty Images Entertainment/Getty Images
Chris Pratt Opened Up About How He Approaches Parenting His 5-Year-Old Son Jack
Chris Pratt is one of those guys who just seems like a fun dad to me. I have no way of knowing if I'm right other than his social media account and interviews and such... which I guess means I do have some access to intel about the Jurassic Park: Fallen Kingdom actor. Lucky me, and also lucky you, because Chris Pratt opened up about his parenting strategies during a recent interview on Live With Kelly and Ryan. And he has some pretty good ideas about parenting, in my humble opinion.
Pratt has one kid, 5-year-old son Jack Pratt, with ex-wife Anna Faris. The couple separated last August after eight years of marriage, but have been very open about making their son a priority following their split. The two are working at co-parenting, which can be a tough situation. But that doesn't mean the Guardians Of The Galaxy actor is planning on shirking his parenting duties any time soon.
On the contrary, Pratt told Kelly Ripa and Ryan Seacrest on Thursday that he tries to find a "balanced" approach to parenting, as reported by PopSugar. "I'm probably the strict parent, but also pretty loving and affectionate as well," he said.
So I guess he's not just the fun dad, he's also willing to through a little discipline around. I love it.
Pratt went on to explain to Ripa and Seacrest that he believes parenting has a lot to do with "respect," but that doesn't mean you can't be affectionate with your kids. "I think you've got to get respect, do what you say you're going to do, and make your kids toe the line and all that stuff," he said during the same interview. "But at the same time, you give them lots of hugs and kisses."
As wonderful as that sounds, tempering strict rules with affection, Pratt left one of his surefire parenting rules out in the list: curse words. See, he admitted on The Graham Norton Show at the beginning of June that there is this longstanding rule in the Pratt family about swearing. You get to do it as much as you want, but only on fishing trips, according to Us Weekly. As the publication reported, Pratt explained:
I had this rule with my old man and I have it with my son, which is when you're fishing you can swear. It's just the guys, go ahead and let loose.
And he was true to his word when he and Jack were fishing on a lake near their farm in Washington. According to Us Weekly, he recounted to Norton:
He catches a fish and I'm trying to get him to take a picture with the fish before we let it go and it flops out of his hands. The fin pokes him in the hand... and he starts to cry.
According to Pratt, Jack was upset and called the bass "stupid," but then remembered the rule about curse words and added, "That stupid bass is a f—king p-ssy!" as Us Weekly reported. Fortunately, fun dad Pratt was on duty and just tried not to laugh. Because let's face it, there are few things funnier in the world than a small child swearing.
It's a good thing that Pratt is so wowed by his little boy, because apparently the feeling is not remotely mutual. He told Norton in that same interview that his son "couldn't care less" about his cool job, explaining:
He went to Universal the other day — Universal Studios in LA. Theme Park, had a good time, and he came back and he said, "Hey dad, guess what? I saw the real Owen."
It was a guy dressed up as Pratt's character from Jurassic World. Apparently he was cooler than his dad. And this, my friends, is the reality of parenting. You can have all the philosophies you want, but let's face it? To your kids, you're just the person who gets them their food and drives them places, for the most part.