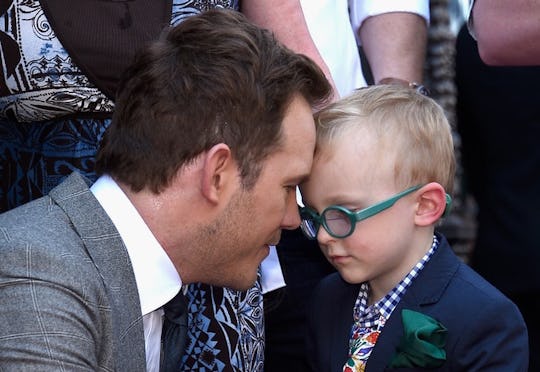 Kevork Djansezian/Getty Images Entertainment/Getty Images
Chris Pratt's Video About "Missing" His 5-Year-Old Son Will Tug At Your Heartstrings
Whether he's making us laugh with Andy Dwyer's goofy antics on Parks and Recreation or making his fans' hearts melt like butter with a sweet post about his 5-year-old son Jack, a little dose of Chris Pratt will perk you up. Most recently, on Wednesday, Chris Pratt shared a sweet video about "missing" Jack and other things in life and it will just make you say "awww," yet make you feel a bit weepy-eyed. It's hard not to, especially because this video comes months after he and ex-wife Anna Faris filed for divorce and many are still recovering from it all.
"Livin' that #farmlife," Pratt captioned the video on Wednesday, along with the prayer hands, heart, and thumbs up emoji. "Missing home, missing the farm, missing the boy, missing the island."
Pratt's post included a video of his son running around his farm on the San Juan Islands in Washington, as reported by Us Weekly, and just hanging out with his dad. It's pretty darn adorable, if I do say so myself, and Pratt seems very aware that his footage of Jack might actually be a form of self-care for fans who are overwhelmed with the world right now.
So buckle up, folks, and check it out:
Pratt continued his caption:
I'm sharing this video as a way to express my gratitude for all the blessings in my life and to entice any of you watching this who may feel unease or anxiety with the state of our world to just breathe, slow down, go outside, find something not man made and give it a good look. A leaf. A bug. A cloud. A sheep.
The video Pratt shared was set to the Christian song "Chain Breaker" by Zach Williams. Pratt explained that he didn't get permission from Williams to use the song, and begged him, "Please don't sue me for all my sheep."
Pratt has been enjoying some time with nature recently, after taking a break from social media following his split from Faris. On Jan. 15, Pratt took back to Instagram from his break to announce he was living the #farmlife, and then just one days later, he uploaded a photo of a lot of meat, explaining that that was another part of his new life on the farm.
"I have found a new passion to add to my many others. #farmlife and jack loves it!" Pratt wrote earlier this month, along with the photo of the lamb meat. "You'll know where to sprinkle my ashes. I'll tell you that." But don't worry, y'all, Pratt also made sure to let his followers know that the lamb wasn't tortured:
We will eat off him for a month. His wool is becoming yarn as we speak. He lived a very good life. He was groomed and shorn, his hooves medicated, de wormed, no antibiotics necessary. Surrounded by laughing loving humans, including children to whom they provided such joy. Nuzzled, pet and loved every day. No stressful travel to his final destination. Trauma Free. Just a touch of a usda certified wand to his head and he goes to sleep.
Clearly, getting into nature and living on the earth has been great for Pratt. And in his video with Jack, he said as much, quoting famed poet, William Cullen Bryant, "Seek communion with her visible form....go forth under the open sky and list to nature's teachings."
For Pratt, everything that's going on in the world doesn't really matter when he thinks about his son and his farm. And that's pretty darn sweet, isn't it? And Jack probably already knows that even if his parents aren't together, they clearly love him more than anything else, because that's what really matters.
Check out Romper's new video series, Romper's Doula Diaries:
Watch full episodes of Romper's Doula Diaries on Facebook Watch.