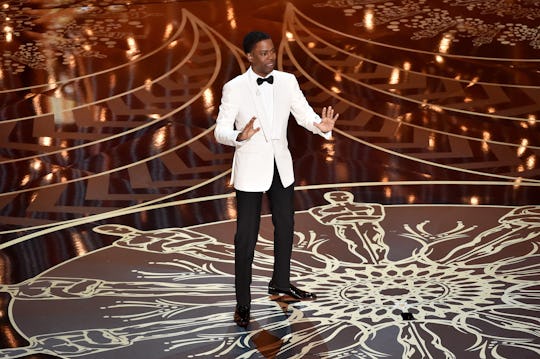 Chris Rock's Joke About Jada Pinkett Smith & Will Smith During Oscars Was Pretty Brutal
Whether comedian Chris Rock would tackle the elephant in the room — the lack of racial diversity among this year's Oscar nominees — while hosting the 88th Academy Awards was one of the biggest questions of the night. Rock isn't known for holding his tongue; his prior award-show appearances have featured some of the smartest, most courageous one-liners about race and culture that anyone has dared to utter on stage. And within minutes of his opening monologue for the 88th Academy Awards, Chris Rock proved that Sunday night would be no different. Rock took aim at fellow actors Jada Pinkett-Smith and Will Smith over their plans to boycott the Oscars, and Chris Rock's joke about the Smiths during the Oscars was nothing short of brutal.
Rock set the tone for the monologue — and for the night, really — with a few laugh-out-loud jokes about the people who thought he should have boycotted this year's Oscars:
Do you realize that if they voted for hosts, I wouldn't have even gotten this job? You would have been watching Neil Patrick Harris right now. People are like, 'Chris, you should boycott. Chris you should quit. You should quit!' How come it's only unemployed people that tell you to quit something?
From there, Rock went on to slam those who did decide to boycott the event, most specifically actor couple Jada Pinkett-Smith and Will Smith. Will Smith played the leading role in the film Concussion but wasn't nominated for an Academy Award. Pinkett-Smith framed her disappointment at the snub as part of a larger statement about the lack of Oscars diversity and called on her fellow black actors to avoid the ceremonies entirely.
As only Chris Rock can, the Oscars host fired back with a joke that urged Pinkett-Smith and others to consider this year's awards alongside other, perhaps more pressing, racial issues:
Why are we protesting this Oscars? It's the 88th Academy Awards, which means this 'no black nominees' thing happened at least 71 other times. You got to figure that it happened in the '50s, in the '60s. One of those years, Sidney [Poitier] didn't put out a movie. I'm sure there were no black nominees some of those years, say '62 or '63. Black people did not protest. Why? Because we had real things to protest at the time. We were too busy being raped and lynched to care about who won best cinematography. When your grandmother's swinging from a tree, it's really hard to care about best documentary foreign short.
Then Rock zeroed in on the Smiths themselves, calling their personal motives for a boycott into question:
Jada [Pinkett Smith] got mad. Jada said she's not coming. Isn't she on a TV show? Jada boycotting the Oscars is like me boycotting Rihanna's panties. I wasn't invited.
That jab was followed quickly by another:
I understand you're mad. I'm not hating. … Jada's mad her man Will [Smith] was not nominated for Concussion. I get it … It's not fair that Will was this good and didn't get nominated. You're right. It's also not fair that Will was paid $20 million for Wild Wild West, okay?
As for why Rock ultimately decided to host the 2016 Oscars — even in the midst of all the tension — the comedian joked that in the end, the decision turned out to be a practical one. "I thought about quitting, but I figured they were going to have the Oscars anyway," Rock laughed. "And the last thing I need is to lose another job to Kevin Hart."
That's probably a fair point.