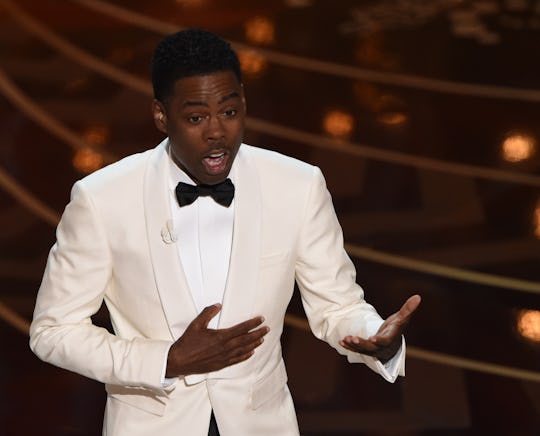 MARK RALSTON/AFP/Getty Images
Chris Rock's Jokes About #OscarsSoWhite Highlight The Night's Biggest Issue
I've been waiting with bated breath to hear what Chris Rock's jokes about #OscarsSoWhite will be ever since the announcement first came that he'd be hosting the show. It's not the excitement that thrills me (though I appreciate Rock's humor and am pumped to hear what he has to say on just about everything), it's the fact that he's in an incredibly unique, powerful, and important position to use his platform to discuss the pitfalls and the implications of not representing a diverse nominee pool for the awards and accolades these individuals so rightly deserve.
Hosting the Oscars gives Rock a chance to plainly spell out just how the Academy Awards have systematically failed people of color by overlooking and ignoring their contributions to the film industry — not just this year, but over the course of its entire history. And Rock's platform? Oh, only the Academy Awards stage itself and an audience that spans the country (and beyond that, the world). Better yet, Rock won't have to fit his narrative into a limited 20-second acceptance speech spot or take to Twitter to voice his opinions (though both are more than fair game). Though other stars like Jada Pinkett and Will Smith have opted to boycott the Oscars in solidarity with the #OscarsSoWhite movement, Rock can give the issue voice and, as is his style, humor.
And when Rock opened the show on Sunday night at the 2015 Oscars, he didn't back down. Here are his best jokes:
On The Opening Montage
"Man, I counted at least 15 black people in that montage."‌ Drop media here ‌
On His Very Important Hosting Duties
"I'm here at the Academy Awards, otherwise known as the White People's Choice Awards."
On The Historic Oppression Of People Of Color From The Oscars
"Why this Oscars? It's the 88th Academy Awards. The 88th Academy Awards. Which means, this whole no black nominees thing has happened 71 other times.""When your grandma's swinging from a tree, it's kind of care about Best Foreign Documentary."‌ Drop media here ‌
On Violence Against People Of Color
"This year, in the in memoriam package, it's just gonna be black people shot by the cops on their way to the movies."
On The Ridiculousness Of Breaking Everything Down By Category
"If you want black people at the Oscars, just have black categories. Like ... Best Black Friend."
On Whether Or Not Hollywood Is Racist
"Is Hollywood racist? You're damn right Hollywood is racist!"‌ Drop media here ‌
On One Of The Night's Biggest Contenders
"Yeah, some people call it Creed, but I call it Black Rocky."
On Opportunity
"We want opportunity. We want black actors to have the same opportunities. And not just once."‌ Drop media here ‌
On #AskHerMore
"They ask the men more because the men are all wearing the exact same outfit."
You can watch Rock's opening monologue in full, here:
‌ Drop media here ‌
And just a head's up, you're going to want to watch it again. And again.