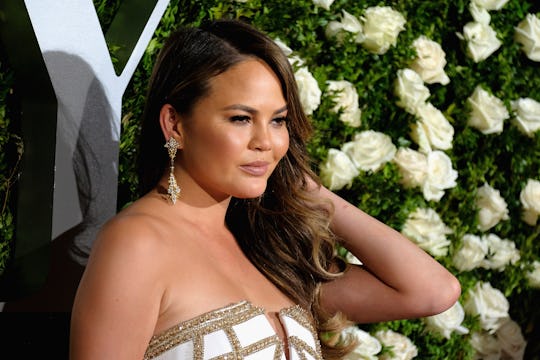 Jemal Countess/Getty Images Entertainment/Getty Images
Chrissy Teigen Opens Up About The Pain Of Being Constantly Mom-Shamed
Every once in awhile I start to think this big old world is a beautiful place. And then I remember mom-shamers exist in a deep, dark hole of the internet. They're the adult version of the schoolyard bully, except there is no going home to tell your mom and have her try to fix it. Mom-shamers are the absolute, complete worst. They hit other moms right where it hurts the most: their parenting. They are insidious and ruthless and unapologetic. And even a seriously outspoken badass mom like model and cookbook author Chrissy Teigen gets hurt by mom-shamers, which is saying a lot. Because that girl is never afraid to speak her mind.
If mom-shamers are tough for a regular person to deal with, consider how much more difficult it would be for a famous mom like Teigen. She's the wife of Grammy-winner John Legend, the mother of their 1-year-old daughter Luna, and friend to basically every famous woman everywhere. And sure, she can often give the impression that she is pretty thick-skinned (remember her epic fight with the president of the United States that got her blocked from his Twitter account, anyone?). But the 31-year-old told TODAY in a recent interview that the mom-shaming does in fact get to her:
You realize you're going to get it no matter what, and it started when I was pregnant. If I seem like I don't care, I definitely care.
Teigen noted that the mom-shaming started when she was still pregnant with Luna and finally pushed her to snap back when Luna was still just 6 months old. A mom-shamer tried to call Teigen out for (brace yourselves, guys) holding her baby the wrong way. The mom-shamer attacked Teigen for apparently holding her baby "like she holds a handbag" to which Teigen replied, "Well, you hold your handbag like a f*cking idiot then, Please do shut up."
Yes to all of that.
Sadly, it didn't stop there. Teigen noted in the same TODAY interview that she has been called out for allowing Luna to wear jelly shoes, and that some disastrous human beings actually mocked a baby for apparently not showing enough emotion.
So how does Teigen deal with it all? She turns to mommy blogs, if you can believe it:
I read a lot of mommy blogs where we don't take ourselves too seriously and that really helps. It makes you realize that the moms that are the most angry or crazy about their cause, they just happen to be the loudest. But, they're not the majority.
And the generous mom has a little advice to share with other moms who get stressed out by mom-shamers:
I think we get stuck in our own heads and worried about pleasing other people. You've got to either roll with it or deal with the anxiety of it. We choose to roll with it.
Great advice from a mom who knows.