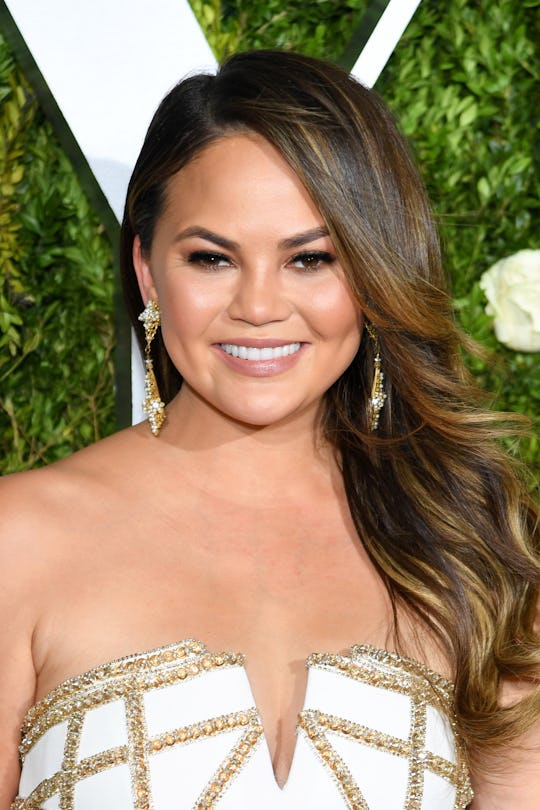 Dimitrios Kambouris/Getty Images Entertainment/Getty Images
Chrissy Teigen Asked Women For Their Mom Stories, & The Internet Rallied Behind Her
Here is the thing not everyone wants to admit about parenting; sometimes kids are kind of jerks. Because they have all of these feelings, and they don't really understand them and don't really have anywhere to put them. So what's a little kid to do? They crap all over their parent. We get it, but it doesn't mean it isn't really hard. So when Chrissy Teigen reached out to other moms on Twitter on Friday to share stories about times their kids have been mean to them, the results were basically everything.
According to New York psychotherapist Sean Grover, there's a time in the lives of children when they test their boundaries by lashing out at their parents. Within reason, Grover told Psychology Today that this behavior is a natural part of growing up:
The collision course between parents and children is nothing new. All children go through test periods. Parents are always in the position of making unpopular decisions and saying no to things kids want to do.
This is especially true for toddlers who haven't learned how to deal with the scope of their emotions, good or bad, yet. And also they really like hearing the word "Yes" a whole lot. So it's understandable that parenting a toddler (Teigen's daughter Luna is 16-months-old) can lead to some pretty miserable days.
The model and cookbook author appears to have opened up a well in mothers on the internet with her request for stories about kids being mean to them. Clearly this was something many women needed to open up about. And the answers? Everyone try to remember that they're little children and they don't actually mean what they say. We guess.
At least, I hope these little children really aren't getting all America's Next Top Model on their moms. It's pretty horrifying.
As if that wasn't bad enough...
This mom's child isn't above denying her a little affection (which most of us moms see as the currency by which our children reward us for taking care of them, if we're honest) and Teigen could relate.
And I don't even know what to say about this one.
Also, whoever said that kids aren't smart just don't know the Jedi mind tricks these small people can play with your feelings.
This poor woman got called a terrible name by her daughter, and added insult to injury when she got judged by another mom online because her daughter knew a bad word. Can't win for losing, right?
This mom's little boy put serious thought into being mean to his mom. And while I admire his creativity, I don't love the outcome (except maybe I laughed a little).
Teigen has been working Twitter like nobody's business all week, and probably needed this little social media lovefest to cope. On Thursday, she broke Twitter when she decided to crowd source six ripe bananas to make some banana bread.
The trade-off? She sent her assistant to pick them up and offered a signed copy of her cookbook, Cravings, a pair of husband John Legend's underwear, and a Becca palette in exchange. Also, she sent her mother to pick up the agreed upon bananas as her assistant.
What can we learn from Chrissy Teigen? The internet can be a thing of beauty, a wondrous place of comfort and solace where people do actually want to help each other. Whether it's a shared parenting experience, a little commiseration, or a few ripe bananas; at least for Teigen, the internet generally provides.
Although Teigen has often had to wade through miles of mommy-shamers to get where she's going, at the end of the day she's figured out her sweet spot.