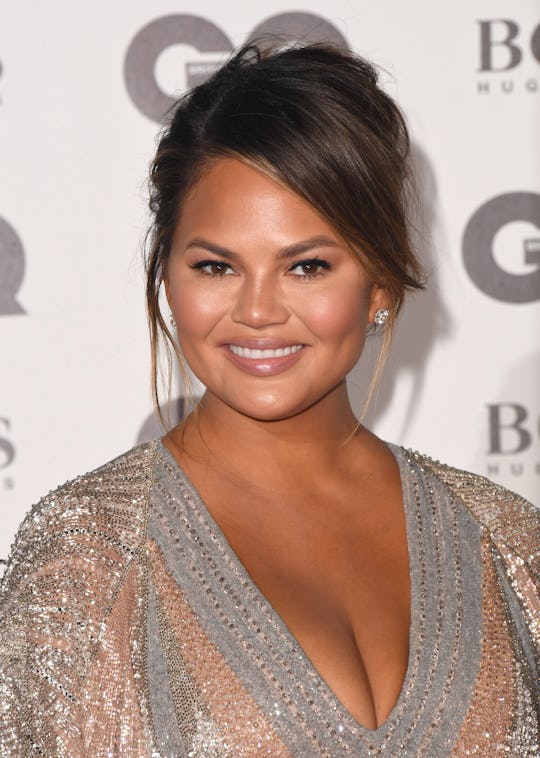 Stuart C. Wilson/Getty Images Entertainment/Getty Images
Chrissy Teigen Reveals Why She Ate Her Placenta After Baby Miles Was Born
Chrissy Teigen is one of those people who really likes to drink deeply from the well of life. She strikes me as a truly joyful person, someone who knows she's blessed and wants to share those blessings with everyone around her. She has no time to be depressed... and yet, Teigen knows exactly how it feels to be down at the bottom of an awful depression. She experienced postpartum depression with her first child; I'm sure she didn't want to go through that again. And she didn't, apparently. According to E! News, Teigen ate her placenta to avoid postpartum depression, because I guess it was worth a shot, right?
The Lip Sync Battle host welcomed her second child, son Miles, with husband John Legend four months ago. Little Miles joined 2-year-old sister Luna. When Teigen gave birth to Luna in May 2016, she suffered quite terribly from postpartum depression. She wrote about her experience in a 2017 essay for Glamour, where she admitted she was shocked by her diagnosis at the time. "I also just didn't think it could happen to me. I have a great life. I have all the help I could need: John, my mother (who lives with us), a nanny, she wrote for Glamour. "But postpartum does not discriminate. I couldn't control it. And that's part of the reason it took me so long to speak up: I felt selfish, icky, and weird saying aloud that I'm struggling. Sometimes I still do."
Things apparently looked a little different for Teigen after giving birth a second time to baby Miles. In an upcoming interview with Rita Braver for the special Sunday's Best: Celebrating 40 Years of CBS Sunday Morning, Teigen said she had managed to avoid a second bout of postpartum depression (which affects 1 out of 9 mothers in the United States, according to the Centers for Disease Control and Prevention) with one interesting little trick.
The Cravings: Hungry For More cookbook author said one thing she believed helped to stave off postpartum depression was eating her placenta, according to CBS News.
Braver joked that she "couldn't have Teigen eat her placenta on primetime," while Teigen responded with her usual sass, according to Entertainment Tonight:
Really? That's not a normal thing? I'm in L.A., it's very normal. They grill it here. You can try some of mine after.
Celebrities have really made eating your placenta a thing in recent years, although just to be clear most people don't eat the raw placenta but have it cooked or frozen and transformed into pill form or ground into a powder to use in smoothies, according to Parents. People who support the idea of placentophagy believe it can help to level off your hormones after giving birth, which could reduce the risk of postpartum depression. But it's important to note that there has not been any conclusive scientific research to back up this assertion, according to WebMD, and that eating your placenta could end up making you sick.
As Dr. Marra Francis, an OB-GYN from Woodlands, Texas, told Parents, the placenta actually acts as a filter when you're pregnant. Which means it's filtering unhealthy toxins that could harm you or your baby during pregnancy. So it might not be the best idea to go ahead and ingest those toxins again.
However Teigen managed to avoid experiencing postpartum depression a second time around, I'm happy for her. It's such a difficult, confusing, upsetting condition to experience when you're trying to just be excited about your new baby.
And let's face it, we all benefit when Chrissy Teigen is feeling like herself. Without her particular spice, what else is there to do on social media?