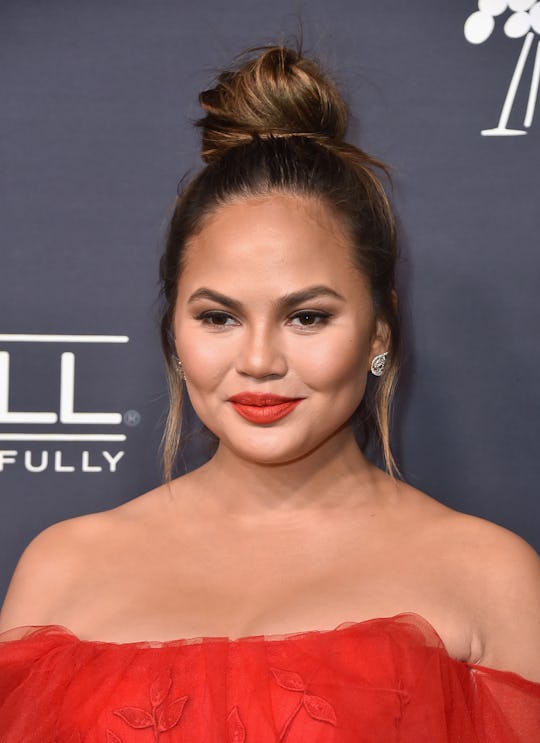 Frazer Harrison/Getty Images Entertainment/Getty Images
Chrissy Teigen Baby Name Theories Show Fans Are So Excited About Her Pregnancy
Model mama Chrissy Teigen has made no secret of her desire to have a big family with husband John Legend, and on Tuesday, she announced that they are now expecting their second child. In an adorable video shared on social media, according to People, Teigen asked her 19-month-old daughter, Luna, what was in her belly — to which the tot excitedly replied, "baby!" Unsurprisingly, fans of the couple are totally psyched about the news, and they've already taken to sharing Chrissy Teigen baby name theories on Twitter as a result. Of course, Teigen and Legend still have a while to go before they have to worry about narrowing down a name for their little one, but if they fine themselves stumped, they definitely won't have to look too far for inspiration.
Given Teigen's status as a veritable social media queen, chances are good that there will be plenty of updates to come from the star as her pregnancy progresses. During her pregnancy with Luna, Teigen was upfront about her struggle to conceive, and the fact that she and Legend turned to IVF to allow them to become parents. Since Luna's birth, Teigen has continued to share glimpses into her life as a mom — even opening up about her battle with postpartum depression — and there's no doubt that fans are eagerly awaiting all the details about the Teigen-Legend fam's newest member.
Let's be honest: Chrissy Teigen and John Legend have long been one of the cutest celeb couples in the history of, oh I don't know, the entire universe, and clearly parenthood has only made them even more adorable. And although the couple hadn't hinted ahead of time what they were thinking of naming their first child, they did share that they'd always known the baby would be a little girl, thanks to a little help from reproductive technology. In a recent interview for InStyle magazine's November cover story, Teigen shared that the couple originally began their IVF journey with about 20 embryos, which eventually got narrowed down to three choice candidates. She revealed that "the first little girl didn't work, and then the second is Luna," meaning that the third, presumably, is the one she is currently carrying.
The idea that that third little embryo is now Luna's soon-to-be sidekick has left some on social media hoping that Teigen and Legend will choose coordinating baby names — with one Twitter user campaigning for "Stella" as a result:
The idea led to others jumping in with some astrological-themed name options of their own:
Although others noted that the idea might not be original enough for the couple, given that Grey's Anatomy actress Ellen Pompeo named her first daughter Stella Luna back in 2009, according to Us Weekly:
If the couple did want to continue with a Luna-related naming theme though, Nameberry has compiled a list of suitable options. According to the baby-naming site, users who expressed interest in the name Luna (the 77th most popular girls name in 2016) also liked names like Aurora, Nova, Wren, and Andromeda (also literally the name of a galaxy, if they wanted to get really space-inspired).
The only hitch? It sounds like the newest Teigen-Legend might actually be a boy. While the couple hasn't yet confirmed it, Teigen wrote in a January 2017 tweet that they already knew the sex of the third embryo, so unless they did another embryo transfer, it sounds like Luna will be getting a little baby brother:
The baby's sex aside though, some were just excited by the fact that, with a last name like Legend, it's pretty safe to assume the baby is going to have an epic name no matter what:
Although one Twitter did have a pretty specific baby name request:
But more than anything, users mostly seem so excited about the prospect of another Teigen-Legend baby that they couldn't actually care less what the couple chooses to name it:
And, honestly, some fans were just relieved to learn that the fact that their names were trending didn't mean that they were announcing the split (something that is an all-too-real issue these days, and also, thanks for breaking my whole heart, Anna Faris and Chris Pratt):
In any case, speculation over the name of Luna's future sibling will likely ramp up as Teigen's pregnancy continues, as it seems to do with pretty much every high-profile celebrity pregnancy. But given what the world already knows about Chrissy Teigen and John Legend's dreamy family life on social media, it's likely safe to assume that whatever they choose to name their little one, they will be completely adorable — not to mention very, very loved.
Check out Romper's new video series, Romper's Doula Diaries:
Watch full episodes of Romper's Doula Diaries on Facebook Watch.