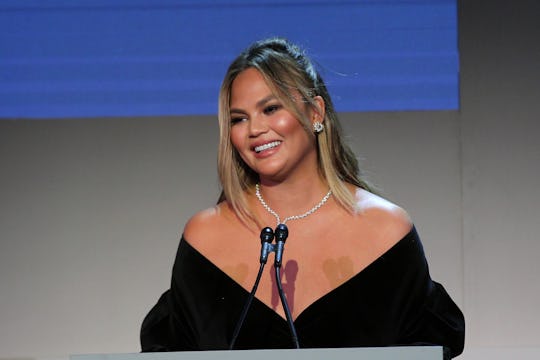 Bennett Raglin/Getty Images Entertainment/Getty Images
Chrissy Teigen & Meghan Markle Worked Together & Need To Be Best Friends
Ever since Meghan Markle became the Duchess of Sussex by marrying Prince Harry in May, I've been desperate for her and Kate Middleton to become best friends. Because I assumed this would be just about the most perfect friendship in the world, what with their matching shiny hair and brother prince husbands and such. It seems I had no idea I might have better options. Perhaps the option of one Chrissy Teigen no less. Teigen dished about working with Meghan Markle recently, and now this is the real-life crossover episode of my dreams.
It's possible the rest of the world already knew that both Meghan Markle and Chrissy Teigen worked on the same game show a few years back, but this is glorious news to me. I mean, I knew Markle was one of the famous "briefcase girls" on Deal Or No Deal, hosted by comedian Howie Mandel beginning in 2005. But I guess I never realized that Teigen, former Sports Illustrated model and host of Lip Sync Battle, was a part of the show as well. Perhaps because, as Teigen recently admitted, she struggled with the stair portion of the game show. So instead of being a briefcase girl, she became a banker girl, as she told Andy Cohen on Watch What Happens Live. I can't blame her; stairs in heels are hard work.
Banker girl or briefcase girl, the two women did apparently work together for a brief time on the show, and naturally everyone wants to know how that looked. When Cohen asked Teigen about her time with Markle, and here's what she had to say, as per Harper's Bazaar UK:
I think she came in the second season or so. I did from the pilot season to first, but then I got demoted because I couldn't walk down the stairs. Like I literally was fired, well not fired, but I couldn't be a 'briefcase girl' so they made me a 'banker girl,' I don't even know. It was a very blurry time. But I keep telling John, 'That could've been me!' Everyone wants a good story, and I'm like, I just remember very quiet and sweet. I got nothing... Really kind, and I don't say that about anybody.
For those people hoping Teigen might have some insidious, terrible secrets to share about Markle, think again. Teigen spoke to the UK's You Magazine, as the Daily Mail reported, about her time with Markle, and apparently the pregnant Duchess left a "lovely" impression on the Cravings: Hungry For More cookbook author.
Now everyone asks me what she was like and I say, 'Sorry, no dirt.' She's gorgeous.
That settles it. Teigen and Markle should have a Deal Or No Deal reunion in London, where Teigen and her husband John Legend can meet the inspiration behind their epic Halloween costumes, Queen Elizabeth and Prince Phillip.
A friendship between these two icons makes so much sense I'm horrified it never occurred to me before. They've worked together, they both married people who (arguably) started out a touch more famous than them and then came into their own celebrity. And they're both cookbook authors; Teigen with her two Cravings cookbooks and now Markle has come out with a cookbook created with victims of the Grenfell Towers fire called Together: Our Community Cookbook, which Teigen told You Magazine she pre-ordered from Amazon, because she really admires the Duchess for several reasons:
I love the freshness she brings, and her cookbook Together [featuring recipes from women affected by the Grenfell Tower fire] is my only pre-order of the year. It's beautifully done and you can tell how important it is to her. You see how she interacts with people and gets down to eye level with kids.
This friendship needs to happen immediately for so many reasons, not the least of which because I need to see Chrissy Teigen at Buckingham Palace.
This first-time mom wants to have a home birth, but is she ready? Watch how a doula supports a military mom who's determined to have a home birth in Episode One of Romper's Doula Diaries, Season Two, below. Visit Bustle Digital Group's YouTube page for the next three episodes, launching every Monday starting November 26.