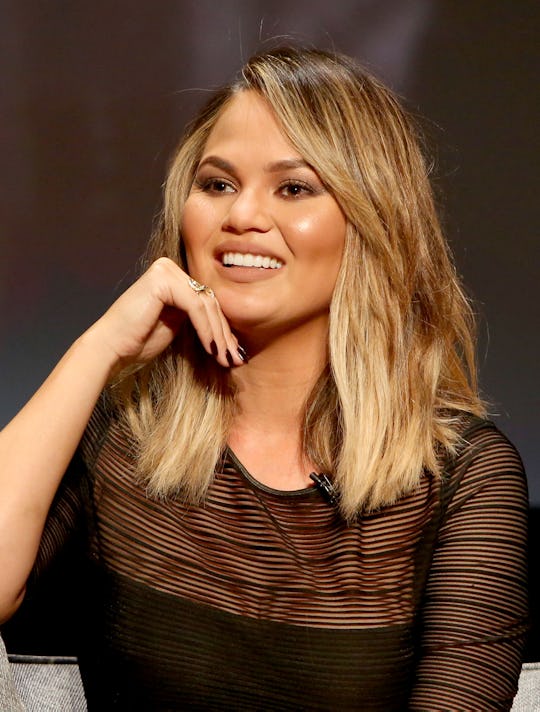 Rachel Murray/Getty Images Entertainment/Getty Images
Chrissy Teigen Gets Baby Yeezys From Kim K & They're Adorable
I want to be jealous of Chrissy Teigen, but I simply cannot. Because we are all grown-up ladies now, and jealousy is not a good color on me. And also because, no matter how blessed by the celebrity gods the girl appears to be... she's just such a doll, you know? Who doesn't love her? Even those celebrities even the celebrities are in awe of are fawning over Ms. Teigen. Case in point; Chrissy Teigen got baby Yeezys from Kim Kardashian and Kanye West before they were even released. That's how much everyone loves her.
Wee little Luna Legend, the four-month-old star of the internet and baby of Chrissy Teigen and singer John Legend, was gifted a pair of of baby Yeezys (Kanye West's new version of his Yeezy Boost 350 shoes by Adidas, for hipster kids who know how to roll) by way of her effortlessly likable mom, Teigen. Kim Kardashian, current best friend forever with Teigen, gifted the tiny set of Yeezys to Teigen on Thursday night, and they are (I'm going to admit it) ridiculously adorable. Teigen took to social media to say thank you to Kardashian, with a photo of the tiny shoes, which retail for around 130 dollars a pair.
No offense to sweet little Luna, but she's not the first celebrity kid out there to be seen sporting some baby Yeezys (the shoes will be available for purchase by us mere mortals on the Adidas site on Saturday). Kim and Kourtney Kardashian both took to Snapchat to share pics of their new baby Yeezys on Wednesday.
While Kim Kardashian tortures us (she totally knew we wanted to see North in a pair, obviously), Kourtney Kardashian featured one each of the Turtle Dove and Pirate Black colored Yeezys on some sweet little feet; her youngest son, Reign.
While baby Yeezys are benefiting from some on point celebrity endorsements, will they sell out in minutes like Yeezys of years past? After all, the Yeezy Boost 750 sold out in seconds back in June (not that everyone was super pleased about that, but whatever. West knows better than most that there is no such thing as bad publicity). Will baby Yeezys follow suit?
Most people seem to think so.
While buying your little one baby Yeezys might not turn your family into social-media savvy, paparazzi-stalked superstars... they're not exactly going to hold you back from the good life either, are they?
Good luck, Yeezy-hunting, all.