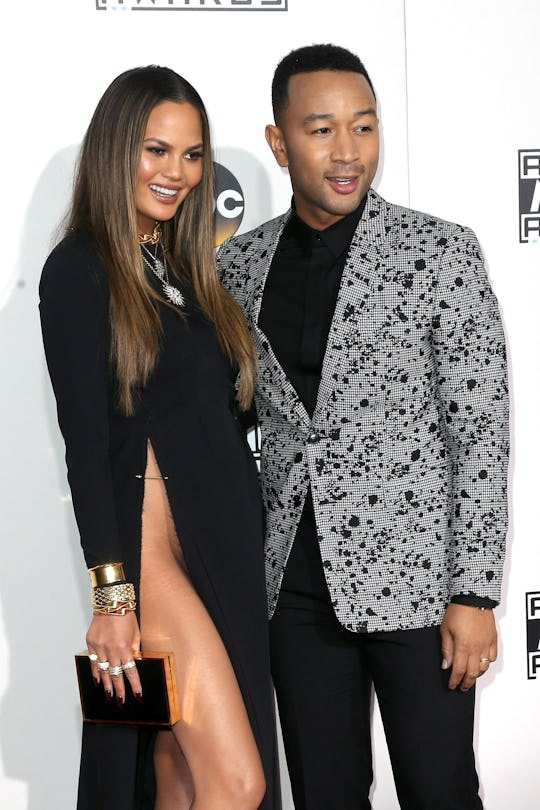 Frederick M. Brown/Getty Images Entertainment/Getty Images
Chrissy Teigen's Daughter Luna Got A Hatchimal
It's Christmas Day, so that means the flood of "What I Got For Christmas" photos on social media are non-stop on Sunday. There are always the classics to show off and brag about: Gaming systems, jewelry, and handmade items. But the biggies are those candid shots of the kids who scored the hottest — and usually most difficult to get — toys and gifts of the season. This year's holiday toy hotness has been Hatchimals, so of course Chrissy Teigen gave Luna a Hatchimal for Christmas this year... or did she?
Teigen's Instagram showed a photo of a rather ambivalent but sweet-looking Luna — who is now eight months old, if you can believe it. But it's Teigen herself gleefully holding the Hatchimal box — not Luna. The Instagram caption reads, "We are all pretending this is for Luna." I get it Chrissy. I'm pickin' up what you're puttin' down. Luna definitely bears an expression that says, "Mhm, that's nice Mom. Can you please get off this incredibly comfy looking sweater blanket that you're sitting on?"
What Luna doesn't yet know is just how crazy people have been going for Hatchimals, which basically sold out before Black Friday. Resellers have been selling these battery-operated surprise eggs for hundreds of dollars (MSRP: $69.99) to parents desperate to get a Hatchimal for their child this Christmas.
Also, can we pause this Hatchimals train for a minute to talk about Luna's adorable Christmas pajamas? Full on Santa suit style, complete with fuzzy cuffs. Guys, I can't. I just can't.
Now that Chrissy — I mean, Luna — has a Hatchimal of her very own, we all know what this means, right? Future Instagrams of their family hatching their Hatchimal! Which is what we all really want: Living vicariously through the life of a celebrity — because if the makers of Hatchimal are to be believed, it's going to be a little while before you can get your hands on a Hatchimal direct from the manufacturer. No but seriously... I'm not sure which I'm going to be more excited for: watching Luna's reaction when her Hatchimal finally hatches — or her mom's!
We are missing some important info from Teigen's Instagram: Is it a blue shell or a pink shell? By what means did she acquire this rare holiday gift? And, more importantly... has she started trying to hatch it yet? All will be revealed soon, as I'm sure Teigen wouldn't disappoint fans by letting this be the only Instagram post we ever see about her — I mean, Luna's — Hatchimal.
Congrats little Luna: You've joined the ranks of so many other lucky children who have received the rarest gifts of them all, like so many Tickle Me Elmo and Cabbage Patch kid-owners before you. Girl, you have arrived.