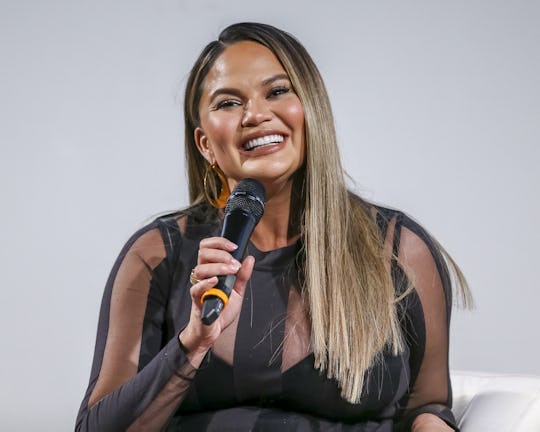 Rich Polk/Getty Images Entertainment/Getty Images
Chrissy Teigen Got A Postpartum Bidet & New Moms, You're Definitely Going To Want One Too
Sometimes I get very sad that I was having babies pre-Chrissy Teigen's social media reign. So sad, in fact, that I would almost be willing to have another baby if I could guarantee it would coincide with any future baby of Teigen and her husband John Legend. Just because I would find great comfort in commiserating with her about the birth struggle and following along with her journey. Almost, but not quite, because having babies hurts like hell. And the aftermath isn't a walk in the park either, as evidenced by the fact that Chrissy Teigen got a postpartum bidet to help soothe her baby birthing bits. Hilarious, yes, but brings back cold memories of a particular kind of pain.
Teigen gave birth to son Miles Theodore Stephen Legend on May 17, a baby brother for 2-year-old daughter Luna Simone. Both she and her baby boy appear to be doing pretty well, considering they just went through a pretty painful journey together. Well, especially painful for one of them, it seems. On Wednesday, Teigen took to Instagram Stories to share a new product she's using for some postpartum recovery time; the Fridababy Fridet, also known as the Mom Washer. Because new moms need a little help in the perineal area, and it's really just nice to have a product specifically tailored for the job.
In Teigen's Instagram Story, she notes that the box clearly says the Mom Washer is the "only other Legend you'll want near your vajayjay" and mutters to herself, "This is true," all while spinning the box. Obviously, this means you should get one, right?
According to the Frida Baby website, the Fridet Mom Washer was invented for an important reason:
Perineal care is super important for new moms. But hospitals don't seem to get that. They give you a useless, ketchup-bottle-looking-thing that's supposed to defy gravity to work. That's why we made Fridet the MomWasher which works upside down to make post-delivery healing process cleaner and easier. Simple, portable, a little adorable, Fridet the MomWasher is perfectly designed with new mom's in mind.
And one new mom in particular made it clear, both on Instagram and Twitter, that she needed a little help postpartum. Because she apparently ripped her "butthole" while delivering wee Miles.
The Fridet Mom Washer has been getting rave reviews from less famous new moms as well, so if you're a new mom you might want to consider getting one for yourself, perhaps. I mean, just read this review raving about the Mom Washer's hidden talents:
I tried the momwasher for the first time during my pregnancy. It served as more than just a postpartum washer. It helped me refresh myself between bathroom trips while i suffered from hemorrhoids (i know...nobody wants to talk about those).
When Teigen tweeted about her pain, of course there were other moms who wanted to share their horror stories with the internet.
I'll let you check out their tweets to read them for yourself, but before you do please look at this picture of Chrissy Teigen's baby boy to comfort you.
Look at that little face... totally worth the pain, right? Probably, no definitely.
If you would like to get yourself a postpartum bidet, the good news is the Frida Baby Fridet Mom Washer is super easy to find and not even expensive. You can pick it up at Target while shopping for a million other things for just $15.99, or order it on Amazon if you're not feeling up to shopping in public just yet. Or if you simply don't feel like discussing your postpartum bidet needs with a quizzical cashier just now.
Either way, just be grateful you have Chrissy Teigen to light your way as a new mom. I'm totally jealous.