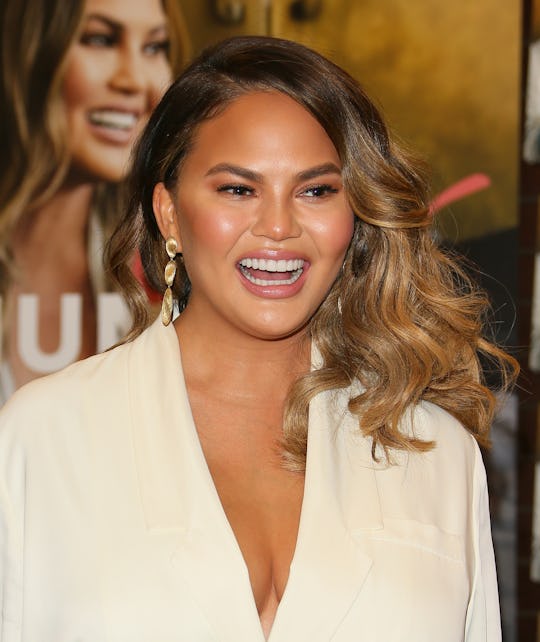 Jean Baptiste Lacroix/Getty Images Entertainment/Getty Images
Chrissy Teigen Came For A Troll Who Criticized Her For Not Breastfeeding
There are some things that keep happening in this world no matter how ill-advised they seem. People continue to put pineapple on their pizza. They continue to eat turkey every Thanksgiving when they know they don't like it as much as chicken. And people are still trying to come for Chrissy Teigen. Still. No matter how many times she perfectly shuts them down, they still come for her. I don't know why, but I do know I'm always entertained by her responses. So when a critic came for Teigen for not breastfeeding baby Miles anymore, you know I was instantly scrolling just for her response. As ever, I was not disappointed.
The Cravings: Hungry For More cookbook author was busy enjoying her usual happy life on Tuesday, as evidenced by husband John Legend's Instagram feed. It seems she was backstage while Legend filmed The Voice at NBC Studios, where he has just signed on as a judge. Teigen and her mom, the always charming Vilailuk Teigen, were hanging out on the sofa with Teigen and Legend's two kids. As Vilailuk hung out with 2-year-old Luna playing games on her phone, Teigen was feeding 5-month-old son Miles. With a bottle, guys. Like, out in the open and everything for all the world to see with their eyes. And she didn't even look that bothered about it, if you can believe it.
Legend captured the photo "Wild scene backstage @nbcthevoice." No mention of Miles drinking from a bottle. Almost like it was no big deal and also nobody's business. That's OK, though. One Instagram follower took it upon herself to ask the question that was clearly on no one else's mind, as per the Instagram account Comments by Celebs:
You no longer breastfeed?
Again, I just have to ask: why come for Chrissy Teigen? You know she's going to make short work of your nonsense. Which she did with one simple sentence:
John never breastfed Miles.
This, my friends, is how you handle a person who is trying to bring you down for your choices as a parent. You don't defend yourself, because you don't owe that person a darn thing. You deflect with humor and wisdom. This pic was posted on Legend's Instagram, and apparently he has some pretty useless nipples. They can't even feed a baby.
The Lip Sync Battle host has made a bit of a second career out of dealing with critics in the most perfect and entertaining way possible. Please see her recent Twitter feud (which she obviously won) with Trump supporter Jacob Wohl as evidence that there's simply no good time to come for Teigen.
I hope other moms learn a little something from Chrissy Teigen here, because one of the toughest parts of raising kids is having to deal with other people's opinions. Instead of buying into it and letting it affect the way you see yourself, perhaps the best thing to do is just let it go. Come up with some cutting one-liner and then drop it.
Maybe that should be Teigen's next book, perfect one-liners for every mom-shaming situation. I would buy that in a heartbeat.