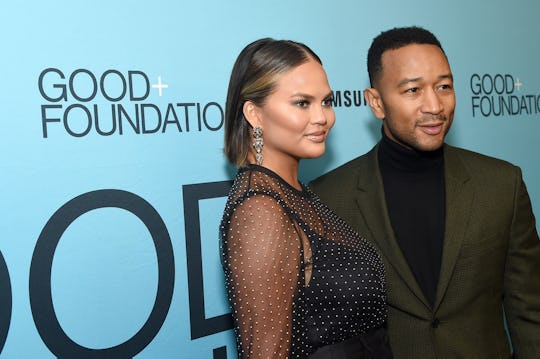 Jamie McCarthy/Getty Images Entertainment/Getty Images
Chrissy Teigen Takes A Hilarious Shot At John Legend On Their Wedding Anniversary
Love is wonderful. Love is grand. And if you meet the right one, love can last a lifetime. But more importantly, when you do find your perfect partner, love can sustain years upon years of mockery and jokes. Need proof? Well, Chrissy Teigen hilariously ripped into John Legend on their fifth wedding anniversary, and he has yet to file for divorce.
Here's a bit of backstory: Teigen and Legend have been together for more than a decade, and tied the knot five years ago in Lake Como, Italy, according to Brides. Look through photos taken on their wedding day, and you'll bear witness a gorgeous ceremony between two beautiful people who are very much in love.
Teigen shared one such photo to her Instagram account on Friday morning, according to Huffington Post. She's wearing a gorgeous Vera Wang dress, while Legend is in a crisp tuxedo. They have their arms wrapped around each other, and are kissing. Lake Como glistens in the background. It's just absolutely breathtaking.
Her Instagram caption starts off innocently enough. The 32-year-old model and mom of two wrote, "12 years ago today, I met the man of my dreams. And 5 years ago today, we got married."
She continued, according to Huffington Post:
We have two babies and some pups and a life I am grateful to have. My everything, I love you and am so proud of the story we've created.
So far, so good. The Lip Sync Battle co-host is making your heart melt with her words. Then, comes the kicker:
But you are an asshole for releasing your @nbcthevoice news on my target launch day for real
Ah, true love.
So what is Teigen talking about? On Thursday, just days after winning an Emmy Award and joining the EGOT crew, Legend announced he would join NBC's The Voice as a coach for the upcoming season, according to Variety. That same day, Teigen announced that she will launched a kitchen and tabletop collection at Target, called Cravings by Chrissy Teigen, on September 30, Refinery29 reported.
Naturally, Teigen, a best-selling cookbook author, is none-too-happy with her award-winning singer of a husband. And, honestly, she shouldn't be. Sure, he's a loving husband and doting father. Sure, he's sweet and has an adorable baby face. But you don't steal Teigen's shine, dude. That's just wrong.
Just kidding...
Legend took it in stride, though, according to Huffington Post, posting a sweet response to Instagram.
Legend shared a photo to his Instagram account of the couple sitting on the floor, cheek-to-cheek and smiling. In the caption, the "All of Me" singer wrote:
What can I say on a day like today? I could talk about the 12 beautiful years I've known you. I could talk about the 5 years of wedded bliss, the 2 wonderful children we've brought into this world. But I feel the urge to say something far more important.
Yes, John Legend, go on...
I LOVE your new kitchenware line at @Target. I can't wait for it to come out on September 30th. I'm so proud of everything you've done in your career and how much joy you bring to people's lives. Did I mention that your Cravings Cookbook is coming out Tuesday? Because it's coming out Tuesday. I love you, baby.
I don't know if this is enough of an apology for Teigen, but it's a start — and at least a nice plug for the model's Target line. Of course, I'm saying that like I have any say in their relationship, but whatever.
Teigen has yet to issue a response to Legend's Instagram post.