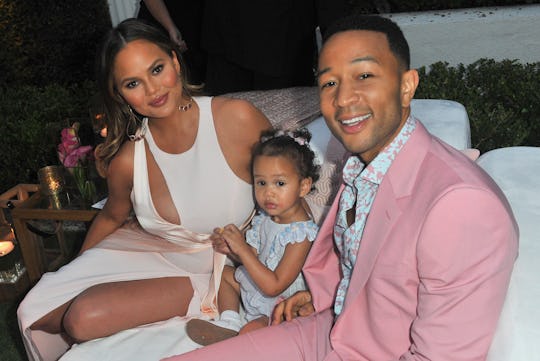 Jerod Harris/Getty Images Entertainment/Getty Images
Chrissy Teigen Is Back From Maternity Leave & Ready To Talk "Bouncing Back" — EXCLUSIVE
Life is different for Chrissy Teigen. While you can expect to enjoy the same unfiltered tweets and candid Instagram posts, the now mom of two is, once again, adjusting to a curveball motherhood has thrown her way. But in true Teigen fashion, she's being honest about the trials and tribulations of parenting a 2-year-old and a 3-month-old, her goals as a new mom twice over, and openly encouraging other moms to do the same.
"Yeah, it's chaos," Teigen tells Romper. "There's no real other way to put it. Like, sometimes John and I just look at each other and we're like, 'Oh my gosh, I can't believe it.' It really is totally exhausting and crazy." Teigen gave birth to her son, Miles, three months ago on May 17, and while she's hypothetically "done this before," Teigen describes being a mom of two as an entirely different, incredibly challenging and overwhelmingly rewarding ballgame.
"I felt like everything was such a mystery to us the first time around," Teigen says, referring to her husband John Legend. "With Luna, we were learning from everybody. Everyone was giving us tips and we were trying all different things all the time. Now it's more about what John and I not only think is best for us, but what we know works best for our kids." While Teigen does think it's easier this time around, especially since her and Legend know what to expect, she is facing a whole new set of potential difficulties that she didn't anticipate when she was pregnant with Miles. "The only issue now is still kind of back to Luna. With the first kid it was all about Luna, and with the second baby it's hard because it's still all about Luna; making sure she's happy and feels loved and, you know, never pushing her but just guiding her to be a big sister."
While her goals as a first-time mom centered around uncovering the mystery that is motherhood and postpartum life and caring for a newborn, Teigen's goals when caring for baby number two, and a toddler, have shifted. "I'm learning so much about my own personal emotional issues, because all these things come to light after you have a baby," she says. "Life is definitely not the same." Teigen says her new goal is to be more knowledgable, so that her life is more of a controlled chaos than a scenario in which her and her husband "run around with their heads cut off." "[The first time around] we thought we were so cool, and we thought we were so 'flying by the seat of our pants,' you know? Our goal this time is basically just being way more knowledgable," she says.
And it's the act of sharing the successes, the mistakes, the emotional moments, and the hilarious stories that make up new-mom life that often allow parents to remain as knowledgable — and supported — as possible. That's why Teigen has teamed up with Pampers Pure to encourage people to share those relatable, unique, funny, and sometimes emotional stories. "We're encouraging all moms to be able to share their stories," she says, "and use the hashtag #PureGoals, because we all have these just wild stories."
These days, many of Teigen's stories are centering around Luna and how she is adjusting to life as a big sister. "I will say she really surprised me, honestly," she says. "She's a baby John. She wants people to look at her, she wants to be seen, she wants to be heard, and of course she's still like that; she's a toddler. But when it comes to Miles, she's just really so sweet. She is the first one to grab me a Pamper's diaper and bring it over to me. Like, she's really so vocal and so fun and she wants to change the diapers and she wants to pull the wipes out."
Of course, there are those moments that Luna vies for her parents' complete attention. "She'll look at John and I, and I'll be holding Luna and John will be holding Miles, and she'll look at both of us and say, 'I want daddy to switch,' you know? Because she's such a daddy's girl," Teigen shares. Luna rarely gets mad about her brother taking up her parents' time, though, and she has yet to question why dad or mom constantly hold her baby brother. "She just politely asks," Teigen says, "and I love that about her, because it's hard to be the center of someone's universe and then have to share the spotlight. It's hard."
Focusing on her 3-month-old son and her daughter isn't the only important goal Teigen has for herself as a mom of two. Being candid about her postpartum body, and combating the notion that women can "bounce back" a mere three months after having a human being either pushed or cut from their person, is a priority for Teigen, and another reason why she has teamed up with Pampers Pure to launch the #PureGoals campaign. "It's crazy being on social media and seeing these women that appear to have just bounced back," she says, "I just feel like so many people are posting things and they have these incredible bodies, like, three months after they have a baby and that's just not realistic for most people. I think it's amazing that they've been able to do that, but we're not all the same."
Teigen knows that many of the #PureGoals stories shared by moms across the country are going to be about "bouncing back" and "the comeback" women often feel they must immediately focus on postpartum, but she hopes she can combat that narrative by sharing her personal journey. "I try not to make grandiose statements [about weight loss] anymore, because I'm definitely struggling. It's my body, and things that work for my body aren't going to work for other people, you know?" Teigen admits that sometimes she looks in the mirror and she doesn't recognize the person she sees, but hopes our collective stories as new moms are positive and filled with self-love. "We all have those days where we don't recognize the person we see," she says. "But you just have this incredible little being in front of you that isn't asking for you to be perfect. They already think you're incredible, and that's what's important."
Whether it's adjusting to life as a new mom, adjusting to having baby number two in the home, or adjusting to your postpartum body, mom life is about constant flexibility and calibration. For Chrissy Teigen, that means continuing to be as knowledgable as possible, focusing on and being kind to yourself, and surrounding yourself with positive people, whether it's on the internet via #PureGoals or in real life.
"It's always good to surround yourself with people who are able to make you feel really good, too," Teigen says. And while life for the mom of two has definitely changed, her willingness to remain candid about postpartum life, and beyond, is undoubtably helping other new moms feel good, too.