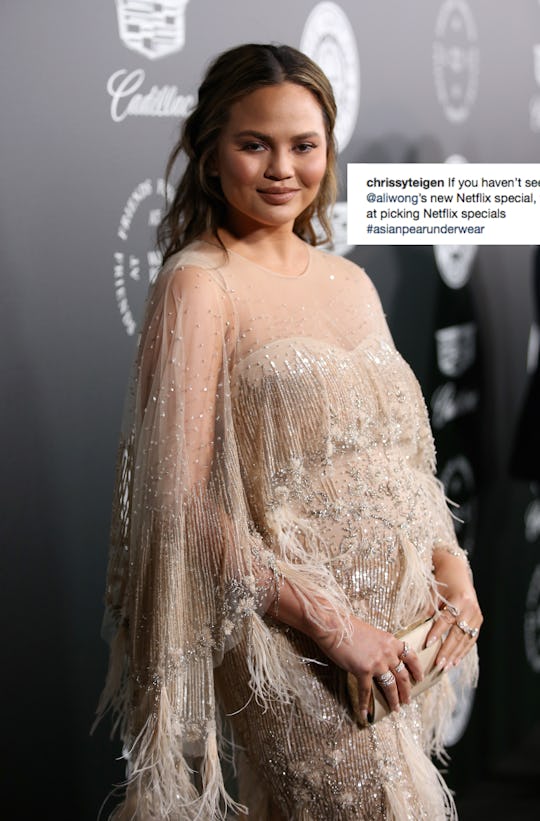 Phillip Faraone/Getty Images Entertainment/Getty Images
Chrissy Teigen's First Postpartum Photo Is A Shoutout To Mesh Hospital Undies, & Moms Will Love It
As beautiful and magical as it may be to welcome a new baby into the world, anyone who's actually done it knows that there's a reason people rarely talk about the reality of being postpartum: it's uncomfortable, definitely not magical, and, well, pretty gross. Celeb moms in particular often appear to sail effortlessly through this stage, but Chrissy Teigen's first postpartum photo following the birth of her son, Miles, last week is refreshingly real (and, as usual, very funny). The new mom-of-two may be head over heels for her infant son, but she didn't hold back sharing what life immediately after giving birth is actually like — complete with a glimpse of her postpartum belly, and a nod to her "Asian pear underwear."
After announcing her second pregnancy on Instagram in November (and then proclaiming just over a week ago that she was definitely "over" being pregnant), Teigen and Legend welcomed their first son together on May 16, according to People. Teigen shared a photo of Miles with the world Sunday, and the shot was so beautiful and her caption so full of love that it would definitely convince someone who'd never given birth that having a baby was nothing but love and cuddles with an adorable, sleepy newborn. But since Teigen is always down to keep things painfully honest, she followed up that post with a pic of her freshly postpartum self: makeup-free and topless for perma-breastfeeding purposes, with her still-pregnant-looking bump dressed in the loosest, flowiest, skirt she could find (clearly, she's done this before).
The truth, of course, is that Teigen is a model, and as such, still somehow manages to pull this look off. But it's still a totally realistic portrayal of what the postpartum days are really like, and how unglamorous it actually feels (I mean, why does no one warn you in advance that your body is about to totally betray you in every and all ways?). Perhaps the best part of Teigen's post though? The caption, which perfectly referenced the brilliance of comedian Ali Wong's new Netflix special, Hard Knock Wife, in which Wong compares the mesh undies you get at the hospital after giving birth to the "same material that they package those fancy Korean pears in," according to Vice (Teigen is even holding a wrapped pear in the pic, which is so amazing).
The reference was instantly recognizable to moms, who were totally here for Teigen's postpartum oh-so-honest photo. One Instagram user praised Teigen in the comments, and wrote, "Yes, Chrissy! Come thru with the comfy hospital undies!" while another wrote, "Keeping it real @chrissyteigen, I remember those hospital undergarments oh so well."
On Twitter, Teigen also took the opportunity to jokingly shade her husband, John Legend, who performed at the 2018 Billboard Music Awards in Las Vegas Sunday, according to Us Weekly. The new mom shared a pic of herself and baby Miles watching Legend on TV, and wrote, "wow didn't u just have a baby John smh go take care of it !!!!!! disgusting."
Though Teigen's glimpse into the less-than-awesome aspects of giving birth was seriously honest and relatable, there was one element that I couldn't quite get my head around: despite being home with a newborn and a 2-year-old, the model mama (and bestselling cookbook author) still somehow managed to cook homemade short ribs — which were apparently good enough to get Legend to make it back home in time for dinner.
Honestly, I can't say I was good for very much after giving birth other than attaching myself to a breast pump and complaining (one reason why bringing meals to new moms is always a good idea!), so the fact that Teigen was able to have a from-scratch meal on the table is seriously impressive.
Either way though, Teigen's willingness to share the reality of new mom life is pretty awesome — giving birth is such an overwhelming experience that takes a huge toll on women physically, and yet there's still the prevailing belief that once the baby is out, the hard part is over. The truth, of course, is that most of us, at one point or another, have ended up on the couch with padsicles in our mesh undies and cabbage leaves tucked into our bras, and — as Teigen so perfectly proved — there's really no need to feel embarrassed about that at all.