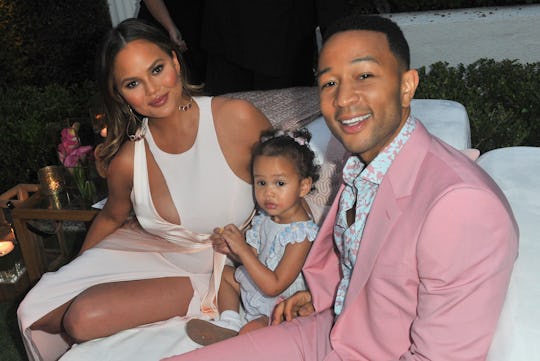 Jerod Harris/Getty Images Entertainment/Getty Images
Chrissy Teigen Won't Let Some Traveling Stop Her From Potty Training Luna
I've been a mother for a little over three years, and I have to say potty training is the worst thing about parenthood. I mean, the worst. You try so hard to teach your little one how to use that tiny toilet in front of them, but they're rather pee on the floor while laughing. Still, there's no rest for the wicked. Case-in-point: Chrissy Teigen is potty training Luna on the road, and "hilarious" can't begin to cover the experience.
Teigen, 2-year-old Luna, and new baby Miles have been zig-zagging across the United States this month as part of John Legend's A Legendary Christmas tour, but the mom of two is not letting that stop her potty training efforts, according to E! News. And the Lip Sync Battle co-host hit up social media this week to show her fans exactly how she's keeping on schedule: With a travel potty training system known as the Summer Infant My Size Potty, E! News reported.
On Thursday, Teigen took to her Instagram Stories to reveal what it's like to potty train while on tour. In the first photo, the model is holding Luna in one arm and the training toilet in the other. Because you gotta do what you gotta do as a parent.
But Teigen doesn't only document the experience with photos. The best-selling cookbook author also posted a video that treats her fans to a little car ride on the first night of Legend's 24-stop tour. (His tour kicked off in Tampa, Florida on Thursday, according to Entertainment Tonight.)
And what happens to be in the back seat? Luna's miniature toilet, alongside her mom, Vilailuck Teigen, E! News reported.
And in another video Teigen posted to Instagram Stories, fans get to see what happens when the model and her family, plus crew, reach where they're going, according to Entertainment Tonight! From the looks it, removing the Summer Infant My Size Potty from their car is one heck of an endeavor, to say the least.
Personally, I do not take my son's travel potty with me wherever I go. But now, I'm thinking twice about it because Teigen seems to be on to something. I mean, if you let anything stand in the way between toilet training and you, then you let your defiant tiny human win. And as a parent, you can't let them win. But I digress.
But potty training is not the only "first" Teigen has experienced recently. The entertainer and her husband went to Luna's first parent-teacher conference earlier this month, and the parents took to social media to document the experience, according to Working Mother.
One former teacher gave Teigen and Legend a thumbs up for being present for their daughter, Working Mother reported. They commented on one of their posts, "As a retired teacher? I am just happy to see parents attend. Yes, there are good sessions and bad, but the meeting shows care, on both sides. Well done, the both of you."
There's no doubt that Teigen and Legend are crushing the parenthood game, but it's also nice to see that it's not always easy for them, too. After all, I can't imagine walking around with a travel potty is a lot of fun.