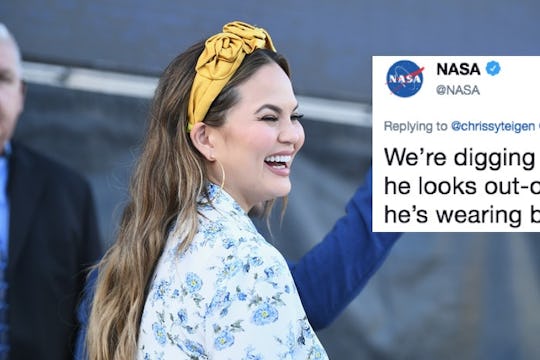 Emma McIntyre/Getty Images Entertainment/Getty Images
Chrissy Teigen's New Photo Of Baby Miles Is So Out-Of-This-World Cute, It Got NASA's Attention
When a mom shares a photo of her baby on Instagram, she's obviously looking for those sweet, sweet compliments about her kid. Sure, someone hitting the like button is great, but there's nothing better than someone actually typing out a message about your baby on social media. Especially if it's NASA. That's next level amazing. Of course Chrissy Teigen's new photo of baby Miles got the attention of NASA, because those people are definitely smart enough to know she and her adorable brood are the ones to watch.
Teigen took time out of her busy schedule of steaming her vagina (because, as she posted on Instagram, "it can't hurt") and trolling President Donald Trump to take things down a tick. Just chill out and share a picture of her baby son, Miles Theodore Legend, wearing a little beanie hat from NASA.
The Lip Sync Battle host is really having a moment with all things space-related, in fact. On Tuesday, she also shared a picture of a vanilla ice cream sandwich eaten by astronauts with the caption, "no big deal my genius NASA systems engineer friend @tweetsoutloud sent me astronaut food!! Reminiscing about space camp hard right now!!"
But the big ticket item on Teigen's social media feed on Tuesday had to be this adorable picture of Miles trying to sleep with his NASA beanie on his head. "space baby!! ♥️♥️♥️ " Teigen captioned the photo.
I mean, how cute is that, I ask you? A little baby boy, just born on May 17 (and a few weeks premature at that, according to People) wearing a little space hat like he's got a job at NASA or something. I love it. And do you know who else loves it? Actual NASA. They commented on Miles' picture on Twitter with the tweet:
We're digging your little one's hat and think he looks out-of-this-world! It's fitting that he's wearing blue because throughout the universe, newborn stars glow the same color.
They are scientists, after all, so you had to know they were going to have mad attention to detail. Miles is wearing a blue sleeper, good eye collective tweeters of NASA. I guess this is why they let you do all the space stuff.
Now don't go thinking that Teigen is going to let her very public tête-à-tête with NASA go to her head. Even if she wanted to, she has an older daughter, Luna, who is apparently more than happy to put her in her place. And that place looks a whole lot like a 2-year-old dumping her empty plate in your lap and then walking away like nothing happened.
Earlier on Tuesday, Teigen shared a video of Luna, her 2-year-old daughter with husband John Legend, walking around with a plate of food and then dumping the plate in her lap. She shared the message "I love you too" on the video, because she understands that this is a sign of affection from a toddler. Probably.
Teigen has something of an exalted history with NASA; after all, she was the one who leaped to the defense of the space agency back in April when a flat-earther appeared to think that NASA was just one person.
It's so nice to see that NASA is reciprocating Teigen's admiration with the one thing many moms want the most in this world: a compliment on her baby's picture. I'm sure the Cravings cookbook author is loving that amazing space food ice cream sandwich she got from a NASA scientist friend as well, but let's face it, guys... nothing is more delicious than a tasty baby compliment.
Maybe a homemade cinnamon roll. But other than that, nothing.