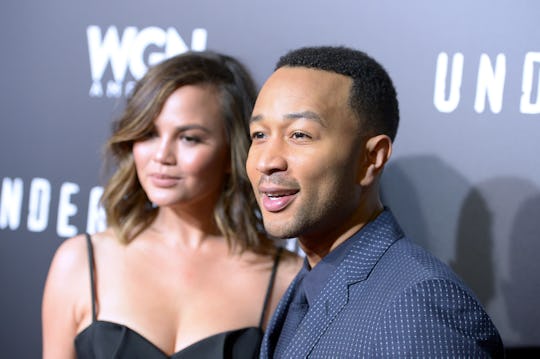 Charley Gallay/Getty Images Entertainment/Getty Images
Chrissy Teigen & John Legend Taking Luna To The Rockettes Are All Parents Before The Second Kid Arrives
Model and cookbook author Chrissy Teigen is expecting her second baby in 2018. She and husband, Grammy award-wining singer John Legend, are already parents to 19-month-old baby Luna, also known as the star of Teigen's Instagram. Pretty soon, of course, Luna will have to share her Instagram stardom with a new baby. And, as almost every parent out there who is expecting another baby will recognize, Teigen and Legend are going out of their way to have special moments with their little girl. When Teigen and Legend took Luna to see the Rockettes on Friday for a "Christmas Spectacular," I recognized that look in their eyes. The subtly panicked smiles of parents who want to make sure their kid is getting the most out of life before another baby comes and changes everything.
Lip Sync Battle host Teigen announced her pregnancy via an Instagram post starring (you guessed it) Luna last month. And ever since, it seems as though she and Legend are living it up with their little girl, soaking up every last moment they can as a family of three before the new baby arrives. Because adding a new baby to the family is a big deal, and Teigen and Legend look as though they want to make it an easy transition for Luna.
Enter the Christmas Spectacular at Radio City Music Hall in New York City on Friday night, and an adorably overwhelmed Luna trying to take it all in.
The couple also took Luna out for a little holiday time in the city, all dressed up and looking adorable in this pic Teigen shared of father and daughter on Instagram.
And at the beginning of the month, Legend had a little father/daughter dance with Luna, singing her the classic Beach Boys tune "God Only Knows." He shared a short video of the moment, and captioned it,
God only knows what I'd be without you.
Legend even took his wife and daughter for part of his Darkness and Light tour recently, to make sure he wasn't missing a single moment with them. And when he did have to be away from them for the European leg of the tour, he sent them a sweet serenade via Instagram:
Wanting to make the most of pre-sibling bonding time isn't exactly a new celebrity trend, of course. Spending time with your little one before the new baby arrives and life gets way busier is something most parents do, whether they realize it or not. And it doesn't mean parents aren't excited to welcome the new baby; on the contrary. In Teigen and Legend's case, the couple worked with fertility specialists for some time before Teigen was pregnant. And a source close to the couple told People that they were "really excited" to see Luna become a big sister.
They think Luna will do a great job with the baby and they're really happy to be expanding their family.
It's just nice to be able to enjoy some extra special time with your kid before they become a sibling and the family dynamics change. Even Teigen's friend, Kim Kardashian West, is trying to get creative about managing her growing family. She and husband Kanye West are expecting their third child via surrogate in the new year, and a source close to the couple told Hollywood Life that Kardashian and West are considering letting their 4-year-old daughter North name the new baby "So that she feels more invested."
In other words, parents will do just about anything to make sure adding a baby to the family is as smooth and drama-free as possible.
Even if it's just doing extra fun things like seeing the Rockettes and letting confetti rain down on you, it's enough to make sure your kid knows they're special. No matter what.