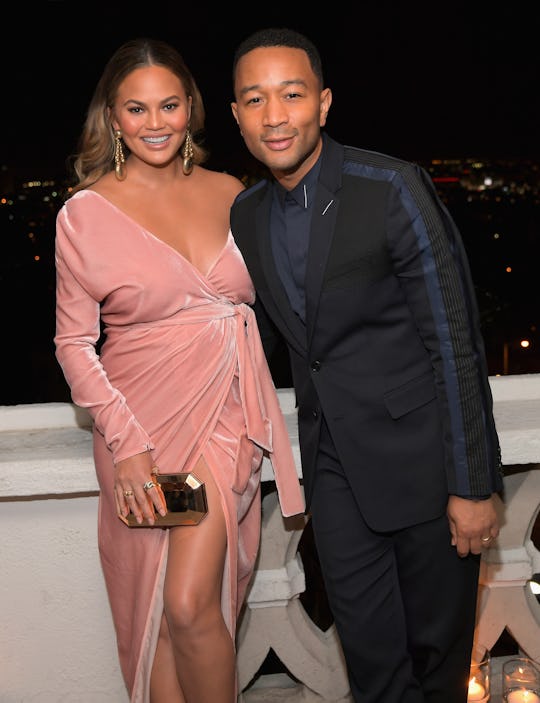 Charley Gallay/Getty Images Entertainment/Getty Images
Chrissy Teigen Explains Why Her Family's Unconventional Living Situation Works For Them
Chrissy Teigen is nothing if not her own person. The model and cookbook author is famous not just for being preternaturally gorgeous, but also for her Twitter feuds, her offbeat sense of humor, and her wild home life. Like, happy wild, not dangerous wild. Anyone who follows Teigen or her husband, Grammy award-winning singer John Legend, on social media has gotten a little taste of the madcap adventures that go on at Chez Teigen. And some people have even had questions about the occupants of her home. With her usual bluntness, Teigen opened up about her family's unconventional living situation and honestly, if she's looking to add another body to the mix I'm here for it.
Most of Teigen fans already know that her mother, Vilailuck Teigen, lives with her, Legend, their 2-year-old daughter Luna and three dogs. Which might not seem all that unusual... except what about Teigen's dad? The Cravings cookbook author spoke to Us Weekly and other media outlets on Wednesday about the questions people always ask concerning her living arrangement.
So my mom lives with us, and everybody's like "Where's your dad?"
Teigen's dad, Ron Teigen Sr., is apparently living just 10 minutes from her home in Beverly Hills, as she told Us Weekly, while her mom Vilaluck (who also goes by "Pepper" and is extremely hilarious in her own right), lives with her.
While the couple are still married to each other, that doesn't necessarily mean they have to live with each other. As Teigen explained to Us Weekly:
He comes by every day and they're married. It just works for them. It's a good family life. We're all very close, very tight–knit.
It actually sounds like a nice arrangement, if you ask me; Teigen and her mom are clearly really close and enjoy hanging out. They also enjoy sharing their funniest moments on Twitter, like this amazing video Teigen shared of her mom doing James Van der Beek's monologue from Varsity Blues.
And it's not exactly like her dad is a stranger. He is a regular fixture on both Teigen's Twitter feed as well as her mom's — heck, he even accidentally won the internet for a day this past Christmas with an *interesting* gift he gave Legend for the holidays. A warm, knitted sock for his nether regions. Which Teigen promptly posted on Twitter with the note "Thanks, Dad." Clearly, a decent sense of irreverent humor runs strong in this family.
The arrangement is working out well for Teigen too. As a busy mom (she's currently expecting her second child with Legend), model and cookbook author, she recently admitted that she really couldn't manage to get it all done without her mom's help. According to Yahoo Style, she said:
I'm not getting up and doing all this by myself. My mom lives with us. I have hair and makeup people... I have the utmost respect for mothers and single mothers who go to work and come home and make dinner. I do all these things because I have help.
Living in a multi generational household has its advantages, especially if you happen to get along with your mom as well as Teigen seems to (anyone else remember when Teigen crowd-sourced ripe bananas so she could make banana bread, then sent her mom to pick them up?) Little Luna and the new baby will share the benefit of having their grandparents close at hand, while Legend and Teigen can enjoy a little date night or two more easily with child care support readily at hand. Pepper and Ron Teigen can live close to each other without living together, which honestly sounds to me like just about the best marriage ever.
Whatever anyone else might think of their situation, it works for them and that's really all that matters. And I applaud the whole family for figuring out a living situation based on their own needs, rather than social constructs. As ever, Chrissy Teigen knows best.
Check out Romper's new video series, Romper's Doula Diaries:
Watch full episodes of Romper's Doula Diaries on Facebook Watch.