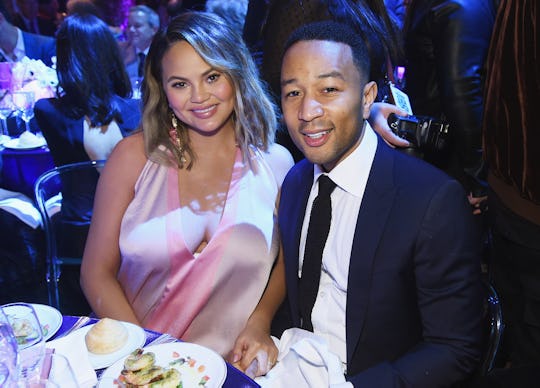 Jamie McCarthy/Getty Images Entertainment/Getty Images
Chrissy Teigen & John Legend's Disco Date Night Looks Like A Blast
Chrissy Teigen and John Legend just welcomed their second baby on May 17, and they're busy doing that thing all parents try to do; find balance. Spend time bonding with new baby Miles, of course, while giving 2-year-old daughter Luna plenty of one-on-one time. Trying to juggle hugely successful careers, one as a musician and the other as a cookbook author/model. And trying to squeeze in time as a couple too. As usual, they're nailing it in every way... with a few consequences. Chrissy Teigen said her disco date night will leave her "sore for weeks," but I guess that's the price you have to pay if you want to have a good time.
The Cravings author took to her Instagram to share some pics of her "Friday Night Fever" date night with Legend. They were dressed in full 70's regalia, with Legend channeling John Travolta from Saturday Night Fever and Teigen looking like a disco queen ready to party like it's 1977. Neither of them shared where they were but I can tell you this; there was a pool table on site and a sliding glass door. In one of the pictures, Teigen is doing the classic booty pop pose perched against the pool table.
And she figured she would pay for it later.
The mom-of-two (and can we just talk about how amazing she looks please??) captioned the photo:
I will be sore from this 3 second ass pop all week
I mean, it's a small price to pay for a few hours out with your husband, I guess, right?
Some of her followers took to her Instagram feed to let her know they felt her pain:
Yes girl I heard that!
we've all been there
Hahahaha you are too funny! But yes that would happen to me! Ha!😊
In other news, she captioned a similar photo with what seem like lyrics, but probably aren't:
slayin alive slayin alive aaaahahahahhhaahhahhahhagaggaggaghahakdkdkjdjdishsbjsidiixjshshyznsizos
For his part, the "All Of Me" singer posed in front a grafitti-covered wall and struck a pose he knew would look super familiar. He captioned the photo "I am an emoji."
This is the second date night the couple have enjoyed since welcoming baby Miles Theodore, although their first date night did appear to be considerably more sedate. On Monday Legend shared a picture of himself sitting beside Teigen in a restaurant with the caption "First post-Miles date night!"
Legend and Teigen aren't just going on dates by themselves all the time either; the couple enjoyed a nice little day out with their 2-year-old daughter Luna Simone on Thursday. They were seen leaving a restaurant with Luna, who was clutching both a leopard stuffie and a Gucci handbag for the ocassion, according to Harper's Bazaar. As one does. While Teigen worried her daughter might be jealous of her little brother once he arrived, it looks like her fears might not have been realized. She shared a tender moment between brother and sister on Wednesday where Luna was trying to give a sleeping Miles his pacifier.
Juggling careers, kids, friends, partners, and social media accounts can be a real struggle for pretty much everyone on the planet, but Chrissy Teigen looks like she's handling it beautifully. Sure, she might be sore for a bit because she attempted a little butt pop pose for her date night, but isn't that what motherhood is about? Trying to stay the person you were before and suffering the consequences after the fact? And if you can manage to hold everything together, isn't it all worth it in the end?