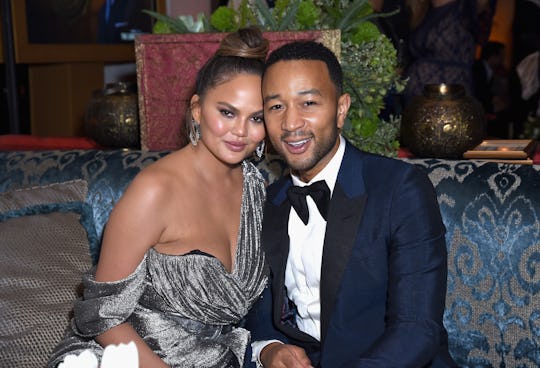 Presley Ann/Getty Images Entertainment/Getty Images
Here's How John Legend Perfectly Supported Pregnant Chrissy Teigen
If you've ever cooked anything from Chrissy Teigen's first cookbook Cravings, you know the Lip Sync Battle host really loves her food. She's not one of those people who can exist on, like, a sensible green salad with a grilled chicken breast every day for lunch for the rest of her days. Teigen needs spice and variety. And while she obviously loves cooking, sometimes she needs someone else to take over the reigns for her. Especially when she's pregnant and feeling tired plus extra hungry. Chrissy Teigen says John Legend cooked for her when she was pregnant, because of course he did.
The former swimsuit model and mom of two is currently celebrating the release of her second cookbook, Cravings: Hungry For More. This new cookbook (which I can't wait to get my greedy hands on) is apparently chock full of even more spicy recipes and interesting takes on every day classics than her first book. And in a recent podcast interview with Bon Appetit, Teigen opened up about the other chefs in her house. Her mom Vilailuck ("Pepper") Teigen inspired many of the Thai recipes that made her first book so popular. And also her husband, EGOT winner John Legend.
As Teigen told Bon Appetit, Legend is actually a pretty excellent cook... who knows how to lend a hand when she needs it most. Like when she was pregnant for 2-year-old daughter Luna and 5-month-old son Miles:
John's an amazing cook. He cooked seven days a week while I was pregnant. He was always my sous; he loves to chop things.
And it's not like he's throwing together food that is sub par just to try to help either. Perhaps unsurprisingly (considering how multi-talented Legend is as a musician and actor), Teigen says he's a real natural in the kitchen:
You teach him one thing and he remembers it forever. Now he's become a chef in his own right. I'm like, you're really trying to take my title in the house! He's become so good.
This is one of the many, many things I enjoy about the relationship between Teigen and Legend; just like her amazing recipes, these two are spicy. As happy as she is that the new coach of The Voice stepped up his cooking skills, she's not ready to offer him her kitchen crown. Teigen always seems to be teasing him about something or other, like during a recent anniversary post on Instagram. It seemed harmless enough, almost saccharine sweet by Teigen standards. And then it took a delightful turn.
12 years ago today, I met the man of my dreams. And 5 years ago today, we got married. We have two babies and some pups and a life I am grateful to have. My everything, I love you and am so proud of the story we've created. But you are an asshole for releasing your @nbcthevoice news on my target launch day for real.
Now I'm not saying that every expectant dad out there should be cooking for his pregnant person every day of the week or anything. I'm not even going to say that he should go buy a copy of Cravings or Cravings: Hungry For More and encourage said pregnant person to go ahead and earmark all of the food she might be, well, craving. I'm just saying that John Legend does this for Chrissy Teigen and she seems pretty damn happy with him in general... it's possible there's no correlation between cooking for your pregnant person and relationship bliss.
But riddle me this; do you really want to take that chance?