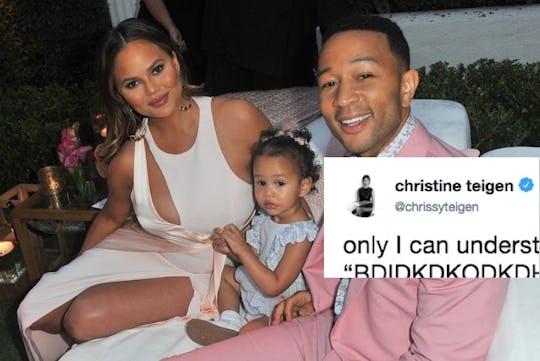 Jerod Harris/Getty Images Entertainment/Getty Images
Chrissy Teigen's Tweet About Understanding Luna's Toddler Gibberish Will Make Moms Say "SAME"
Chrissy Teigen just gets it. After writing about her on the regular for the past two years or so, I can safely say I adore her and wish she was my friend but also don't want to be one of those creepy people who wishes we were friends. I want it to just happen naturally, if possible. Especially now that she's become a mom of a toddler; this is where our friendship would truly shine. When Teigen tweeted that she's the only person who understands her daughter, I was right there with her. My son was also a fan of coded language only I could decipher.
The Cravings: Hungry For More cookbook author has two kids with husband John Legend; 2-year-old daughter Luna and new baby son Miles. As a mom of a toddler, she is not above owning up to her special powers. One of those being the ability to understand a singular language that nobody else on the planet can comprehend but herself: the language spoken by her daughter Luna.
Teigen tweeted on Wednesday that "only I can understand my kid." She added, "she's like 'BDIDKDKODKDHJXUDHEJSLOSJDHDUSJMSOZUZUSJSIXOJ' and I'm like 'ok I will get you a piece of sausage in just a minute.'"
This tweet immediately brought me right back to my own son's toddler years. When he called everything in sight "jute" and I was the only one who understood which "jute" he was asking for at that moment (cereal, shoes, juice, toast, a hug, or his Buzz Lightyear toy).
Teigen has hit that next level of parenting, I guess. Welcome.
Of course, the Lip Sync Battle host isn't the only parent to need a special internal translator to figure out the ever-changing needs of a toddler in her house. Some of her followers shared their own stories of dealing with toddlers who speak in tongues, and it was pretty fantastic.
It might seem like your toddler is from another planet when they're hitting you with all that bizarre nonsense talk, but it's nothing to worry about, according to Baby Center. If your 2-year-old is speaking in gibberish but can put together a few words in a semblance of a sentence and understands simple instructions (even though they're probably going to completely ignore those instructions, to be honest), then don't worry about it. Just do what Chrissy Teigen does; revel in your special skills as a personal toddler whisperer.
Although I have to tell you, I had no trouble understanding Luna in this video Teigen shared on Instagram. She said "I did it!" after playing the drums. Which I suppose means my own toddler whisperer game is still going strong.
Teigen has been busy lately on social media, which isn't especially new but is, nonetheless, endlessly entertaining, not to mention sort of life-affirming and refreshing. The former Sports Illustrated model has never been above sharing the intimate details of her parenting journey on social media, particularly if she thinks it might help someone else.
For example, when she shared a recent snap of baby Miles on Instagram, a follower asked her whether or not she had used IVF the second time around (Teigen has been open about using IVF to conceive Luna in the past).
When a few other followers called that fan out for asking a private question. Teigen was quick to jump to her defense, according to People, writing:
I wasn't offended by it — people are just curious and I think hearing success stories gives people hope. I'm all for talking about IVF.
That's the thing about Chrissy Teigen. She's not just fluent in toddler-speak, she's fluent in empathy too, it seems. Generous enough to talk about her struggles if it helps. Maybe all that toddler translation really has given her special powers.