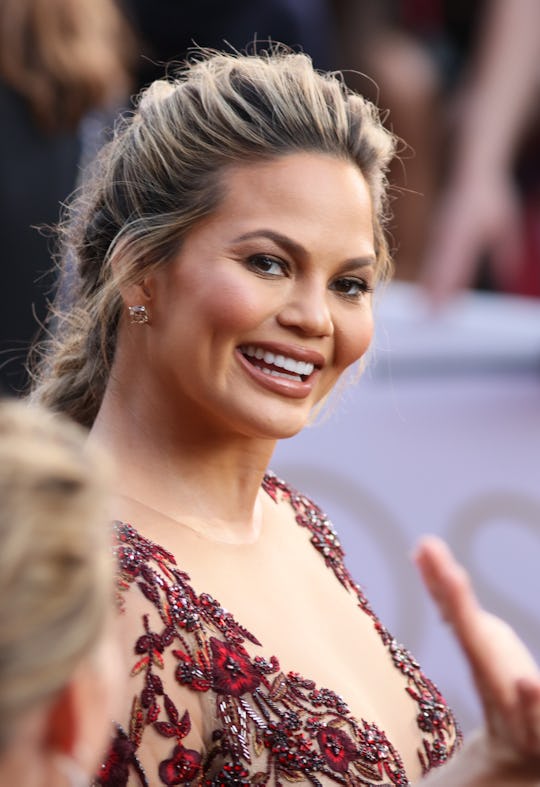 JEAN BAPTISTE LACROIX/AFP/Getty Images
Chrissy Teigen Shares A New Photo With Luna, & It's A Candid Mother-Daughter Moment
Model Chrissy Teigen only gave birth to her daughter last week, but the world is already calling for more pictures of Luna Simone Stephens. Teigen and her husband, singer-songwriter John Legend, have been more than happy to oblige. On Friday, Teigen shared a new picture of baby Luna on Instagram, complete with the Coachella flower crown filter from Snapchat.
Luna Simone was born on April 14, and Teigen and Legend have already kept their promise to share their daughter's life with fans. Teigen told People in March that they didn't plan to hide their daughter from social media. "We're not going to go out of our way to hide because obviously it's such a big part of our lives to show everything: the inside of our homes, my parents living with us, our animals, everything," she said. "I'm not going to do sneaky back shots of her or anything."
That said, Teigen's most recent photo is a back shot of Luna — but Legend and Teigen have already shared multiple shots of their daughter, including a very cute shot of her adorable face. The back shot of Luna also captures a candid mother-daughter moment — the sweetness in this photo is almost palpable.
Ever since the family of three came home, Teigen has returned to delivering honest, comedy gold on Twitter, starting with "No one told me I would be coming home in diapers too." (After FOX's Erin Andrews retweeted that, Tiegen added, "Help me.")
Tiegen also poked fun at the idea of a "push present," where women receive gifts for giving birth, and shared a picture of a perineal irrigation bottle, captioning it, "Buying myself a push present." (If anyone was worried that Teigen would stop keeping it real after her daughter's birth, never fear. This woman is as fearless and as funny as ever.)
Judging by Tiegen's pictures and tweets, she and Legend are enjoying the bliss and surprises of bringing home a newborn — and Teigen seems like a natural. Before little Luna was born, Teigen talked to Self about motherhood and shared a few of her insecurities. "I've truly never been alone with a kid. I don't think I've changed a diaper!" she said. "I'm like, how many times a day do they go?"
Looks like she's got it down pat. I hope Tiegen keeps the Luna pictures coming — along with plenty of on-point tweets about her adventures in motherhood.