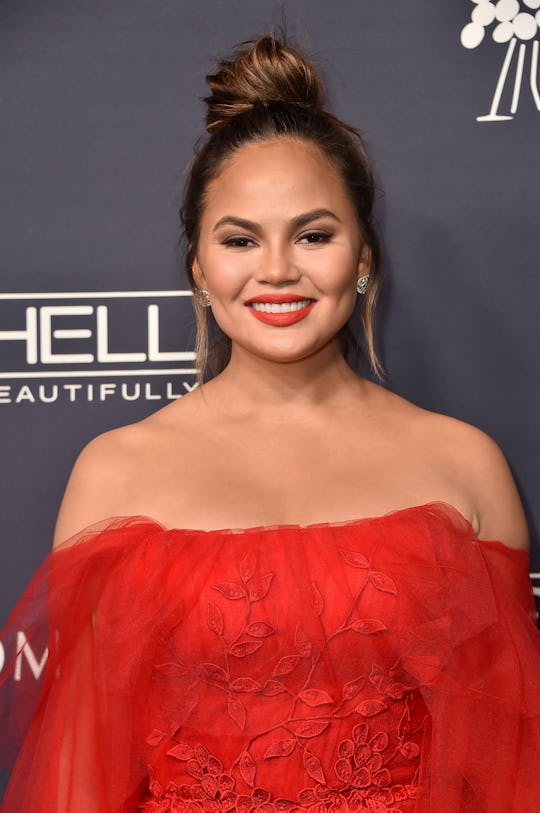 Frazer Harrison/Getty Images Entertainment/Getty Images
Chrissy Teigen Shuts Down Mom-Shamers On Instagram In The Most Hilarious Way
Chrissy Teigen has never been one to let internet trolls get to her. And while most celebrities choose the route of ignoring their haters, Teigen often chooses to mess with them instead — because once things get that real, the trolls are sure to back off. In the latest installment of this never-ending cycle, critics are mom-shaming Chrissy Teigen for sliding with her daughter Luna.
The celebrity mama Instagrammed a photo of Luna, who is almost 2 years old, sitting on her lap on a slide at the playground. "Weeeee are very skeptical of slides right now," Teigen captioned the shot. (A+ wordplay, Chrissy.) Clearly, Luna was reluctant to slide by herself, so Teigen went on it with her to make her more comfortable.
However, some of Teigen's followers didn't see it that way, and they let that be known by leaving critical comments on the post. "Adults shouldn't slide with a child in their lap. Their legs can get twisted and break. OUCH!" commented one user. "Hell is wrong with you? You're gonna break her legs," wrote another.
Others shared their personal experiences with injuring their kids' legs on slides. "I actually fractured my son's leg doing this with him when he was 18 months old. I felt so terrible - I never knew it was dangerous! But it really is...his leg got caught as we went down. Of course I'm sure you had no idea as most people," commented one user. "My son actually broke his leg going down a toddler slide this past Saturday 😰 so yes slides can be very dangerous," added another.
Teigen responded to the worried commenters with some of her signature sarcasm. "Wish you guys would have told me about the leg thing earlier. They broke. Both of them," she commented. "And everyone else's in the park broke too just from watching it happen. There are so many broken legs here."
She then added a clarification about her and Luna's position in the photo. "Heads up photos are a one second moment in time, I was lifting her onto my lap," Teigen wrote, suggesting that this is not the position her and Luna went down the slide in, but rather a snapshot of Luna getting settled onto her lap and into a safe position. It's awesome that Teigen shut down her critics with both a sassy comment and by reassuring them that she was safely caring for her daughter.
However, it's important to note that going on slides with your child on their lap actually can put them at a risk for injuring their legs — if you are not doing it safely.
As reported by The Daily Mail, a study conducted by the American Academy of Pediatrics found that an estimated 352,698 American children under the age of 6 were injured while on slides between 2002 and 2015. Many of those injuries were leg fractures, and most of the reported injuries happened to children between 12 and 23 months old.
These fractures usually happen when a child is sitting on their parent's lap and gets their foot caught on the side or bottom of the slide, The Mirror reported. From there, the leg sometimes bends backwards due to the parent's weight before the parent notices and has time to stop it.
If you want to slide with your child on your lap, the study's researchers simply recommend being very careful, according to The Daily Mail. If you are aware of where your child's legs are and make sure their feet do no not get caught on the slide, or maybe even position their feet on your lap and hold them there, all should be fine.
Check out Romper's new video series, Romper's Doula Diaries:
Watch full episodes of Romper's Doula Diaries on Facebook Watch.