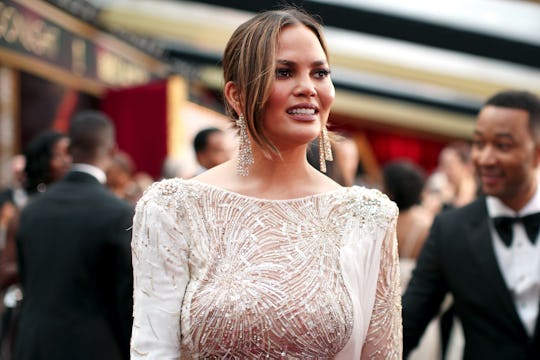 Christopher Polk/Getty Images Entertainment/Getty Images
Chrissy Teigen Talks About PPD For The First Time
Since even before Chrissy Teigen welcomed her daughter, Luna, in April, the self-described "chronic oversharer" has included fans in so many of the baby's milestones through her prolific social media accounts — as well as her own growth as a first-time parent. The supermodel and Lip Sync Battle host has enthusiastically chronicled everything from the decision she and husband John Legend made to conceive via IVF after infertility struggles to her experience breastfeeding at a photo shoot. But there was one challenge, often shrouded in taboo, that she had been hiding from public view. Well, not anymore. In a beautiful essay for Glamour published Monday, Chrissy Teigen spoke about her postpartum depression for the first time, and it's a huge deal for all kinds of moms.
In the piece, Teigen describes all the reasons her life is, in many ways, idyllic: the "compassionate, patient, loving, and understanding" husband, the "wonderful, energetic pregnancy" that resulted in the daughter "who is perfect," and the supportive, accommodating environment at Lip Sync Battle when she went back to work after giving birth.
Despite all this, Teigen began exhibiting common signs of postpartum depression. She could hardly get out of bed in those months after having her baby, she wrote, and didn't leave the house unless she had to. Her shoulders, wrists, and lower back hurt; she lost her appetite and didn't want to see friends. Bursting into tears became commonplace, and she was quick to snap at others.
"How can I feel this way when everything is so great?" Teigen wrote, later sharing that she and Legend both were relieved when she finally got the diagnosis of postpartum depression with anxiety. "... But postpartum does not discriminate. I couldn't control it. And that's part of the reason it took me so long to speak up: I felt selfish, icky, and weird saying aloud that I'm struggling. Sometimes I still do."
According to the Centers for Disease Control, about 1 in 9 women experience postpartum depression. Still, it's a medical condition that people tend not to talk about openly, often because they feel guilty and even fear that others will assume that they do not love their babies. Teigen herself acknowledged that she has long associated the condition with Susan Smith, who reportedly was depressed when she murdered her two young sons in 1995. But that's exactly whey it's so significant that Teigen — a famous, successful woman with a picture-perfect family — did her part to bring the truth about postpartum depression out of the shadows.
And not only did she admit to dealing with postpartum depression, but she illustrated that there is hope for all women who are in similar situations. In December, Teigen said she started taking antidepressants, and wrote that she is going to start seeing a therapist soon. Most importantly, she knew she had to find a way to start to get better so she could be as involved as possible in her daughter's life as the baby — almost a year old now! — continues to grow up. "As she gets older, she's becoming more and more fun," Teigen wrote. "Her eyes are getting so wide, and I want to be there for those wide eyes. And I will be."
By being upfront with fans about what's going on in her life, Teigen may very well have made it a little easier for other moms to do so for their kids, too.