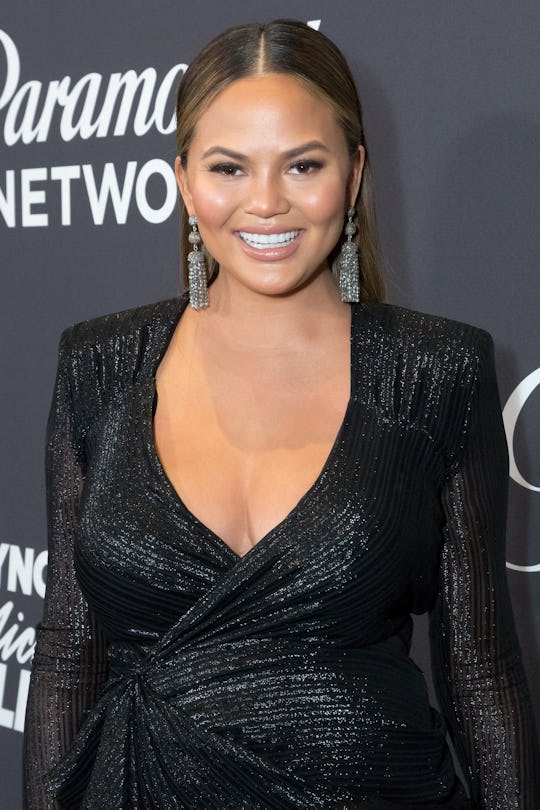 Greg Doherty/Getty Images Entertainment/Getty Images
Every Mom Will Appreciate The Fact That Chrissy Teigen Is Still Wearing Maternity Leggings
Chrissy Teigen gave birth to her son Miles a little more than two months ago, but she's definitely not ready to let go of every element of pregnancy just yet. In a recent Instagram Story, Chrissy Teigen shared that she's still wearing maternity leggings, and honestly, I don't blame her.
"I just want to say, I think it's really cool that maternity pants make it so that you can wear them even a long time after, and they still fit really well," Teigen joked in an Instagram Story she posted yesterday, captioned with a crying emoji. In the video (which inexplicably takes place on some sort of tropical deck) she shows off the pair of high-waisted maternity leggings that she is wearing. And when I say high-waisted, I mean seriously high-waisted — in the clip, Teigen pulls them up all the way, and they almost reach her chest. I guess all that fabric that's meant to cover a pregnancy bump has to go somewhere!
Teigen clearly had a joking tone to her voice during the video, though the fact that she's still wearing the maternity leggings is very real. It's actually totally normal for mothers to continue wearing maternity pants during the postpartum period. Every body is different, and while some women may be back in their pre-pregnancy jeans the day they leave the hospital, others may experience more drastic body changes, leaving them more comfortable in their maternity clothes for a little while longer.
This is not the only time Teigen has opened up about the ~joys~ of recovering from childbirth. Just a few days after giving birth to Miles back in May, Teigen shared a photo on Instagram of herself wearing the mesh underwear that hospitals give to moms after they give birth. In the picture, she's also carrying baby Miles and a pear wrapped in a mesh wrapper.
"If you haven't seen @aliwong's new Netflix special, you are bad at picking Netflix specials #asianpearunderwear," Teigen wrote. The special Teigen was referring to is Ali Wong's Hard Knock Wife, in which the comedian compares the hospital-issued postpartum underwear to the "material that they package those fancy Korean pears in," according to Vice.
The Lip Sync Battle host also kept it real when showing off her postpartum stretch marks a few days aftera welcoming Miles. In late May, Teigen shared a video to her Instagram story of the stretch marks on her hips. "No! I thought I did such a good job with my creams! My hips!" Teigen dramatically said in the background of the clip, which she captioned with a crying emoji, Harper's Bazaar reported.
But even though Teigen's postpartum recovery from Miles' birth is not going perfectly, it has one thing going for it that her postpartum period after Luna's birth did not: her butthole remained fully intact after giving birth to Miles. In a tweet shortly after Miles was born, Teigen wrote:
I can confirm postpartum life is 90% better when you don't rip to your butthole. Baby boy: 1 point. Luna: 0.
Despite all the less-than-perfect aspects of the postpartum period, Teigen's social media posts make it clear that she is so in love with her little family of four. On June 7, Miles' original due date, Teigen took to Instagram to share a touching yet hilarious update on her baby boy, writing:
Today was your original due date but you heard how cool we are since that's all we talk about (how cool we are) and you wanted to see what all the fuss was about, 3 weeks early. Well we tricked u! We are boring AF but we love you!
Congrats to Chrissy Teigen on being one of the funniest and sweetest moms on social media — and on totally pulling off those maternity leggings.