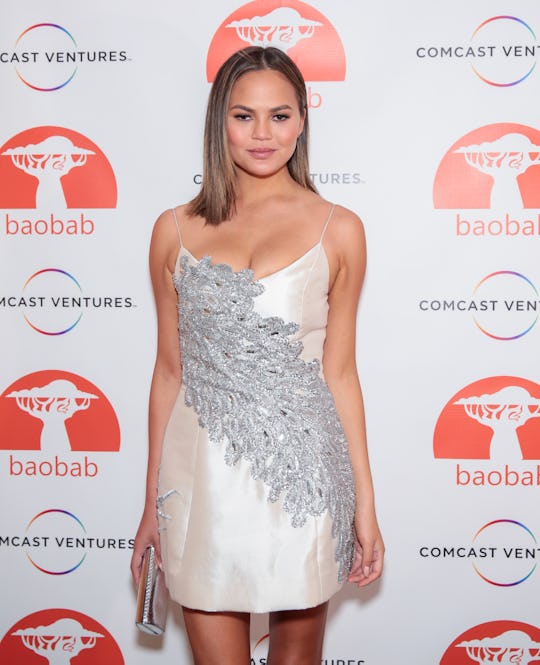 CJ Rivera/Getty Images Entertainment/Getty Images
Chrissy Teigen Shared A Video Of Her Postpartum Stretch Marks, & Moms Will Totally Get It
Chrissy Teigen is not one to shy away from topics that most people stay quiet about — especially when it comes to pregnancy, postpartum recovery, and motherhood. Most recently, Chrissy Teigen shared a photo of her postpartum stretch marks after giving birth to baby Miles — and her reaction to them is pretty great.
The video, which Teigen shared to her Instagram story, is of her hip taken from above. Teigen captioned the clip with the sobbing emoji, and provided narration. "No! I thought I did such a good job with my creams! My hips!" Teigen said in the background of the clip, Harper's Bazaar reported.
Teigen has shared photos of her stretch marks before. However, she usually acknowledges stretch marks with pride. In April 2015, Teigen shared a shot of her thighs while sitting cross-legged, taken from above. "Stretchies say hi!" she wrote next to the photo. In January 2017, Teigen tweeted a picture of stretch marks on her thigh, captioning it, "Whatevs." The next day, she tweeted an explanation for her stretch mark social media posts. "I do not post stretchies for the praise," she explained. "I post it because the wine also I like the pattern and they're so soft."
So because Teigen has regarded her stretchies with pride in the past, it was a bit surprising to see the sobbing emoji accompany her latest post. That being said, the sobbing seems to be in line with the exaggerated alarm in her voice during the video, as Teigen says she used creams in hopes of preventing stretch marks, so she was not expecting to get them. Interestingly, in a 2012 study conducted by the Cochrane Pregnancy and Childbirth Group, scientists could not find substantial evidence that any topical creams actually prevent stretch marks during pregnancy.
Still, having negative feelings about postpartum stretch marks is totally normal — as is having positive feelings about them, considering they serve as a reminder of the freaking amazing thing your body just did (aka grow a human). Not to mention, stretch marks are pretty common for new mothers. Between 50 and 90 percent of women develop stretch marks during pregnancy, according to the Cochrane Pregnancy and Childbirth Group.
Furthermore, Sarah Winward, founder of Your Downton Doula told Romper in 2017:
At a microscopic level the connective tissue changes, becoming weaker and less elastic, but we don't really know why.
Additionally, Windward says gaining weight rapidly as opposed to steadily can sometimes cause more stretch marks. Genetics can also be a factor — Winward says that women are more likely to get stretchies if their mothers had stretch marks back in the day.
So considering the exact cause of stretch marks is unknown, it makes sense that treatments for them are often not effective.
Whether or not Teigen is feeling as jazzed about her newest stretchies as she has in the past, she's definitely helping normalize postpartum stretch marks by simply talking about them. She's also working to normalize several other less-than-perfect aspects of childbirth and postpartum recovery. For example, after giving birth to Miles, she revealed that when she gave birth to Luna, she did in fact tear her anus. Luckily, she did not suffer the same fate when she delivered Miles.
And a few days after giving birth, she shared that she was still rocking the mesh postpartum underwear the hospital gave her.
It's awesome that Chrissy Teigen is using her platform as a celeb to challenge the stigma surrounding stretch marks. New mothers deserve to be proud of their postpartum bodies, and it's clear that Teigen feels that way — no matter how disappointed she is in whatever fancy cream she bought.