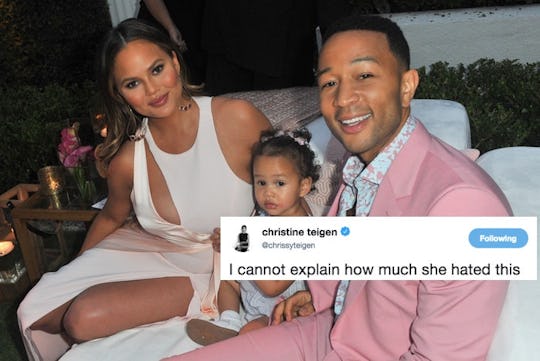 Jerod Harris/Getty Images Entertainment/Getty Images
Chrissy Teigen Tried To Make S'mores With Luna, But She Wanted No Part Of It — PHOTOS
There's nothing like making summer memories with your kids. Trips to the beach, campfires at night, making s'mores... all we parents can do is pack all of this loving goodness in to every moment and hope that some day, our kids will look back and remember this with fondness. But let's face it, not every attempt at a sepia-tinted summer memory gets pulled off without a hitch. Sometimes kids just refuse to cooperate and help pull these moments together with us. Case in point: Chrissy Teigen's attempt to make s'mores with Luna was not the picture-perfect success she was probably hoping for, and parents everywhere can relate to this hilarious struggle.
Luna is the 2-year-old daughter of Cravings cookbook author Teigen and her musician husband John Legend. The entire family, including 3-month-old baby brother Miles, have been enjoying an extended vacation in Bali since the end of July. One would think a glorious trip to the magical island of Bali would be enough to make any kid happy, but Teigen wanted to take things to the next level. And what better way to really amp up those holiday memories than an epic campfire and some delicious s'mores? Made by famed chef and model Chrissy Teigen, no less? Who wouldn't be impressed by such an evening?
Her daughter Luna, apparently.
On Thursday, Teigen shared a series of photos with her Instagram followers showing Luna watching her warily as she roasted marshmallows. Luna never approaches the fire and looks at her smiling mom as though she's lost her mind. Admittedly it must look pretty weird seeing s'mores made for the first time. Someone is burning up your delicious marshmallows over a huge fire and then making a sandwich of chocolate and graham cracker goodness out of the ashes. Highly suspicious.
Luna was really not having any of this nonsense, as Teigen explained in her caption of the series of photos:
I cannot explain how much she hated this
This isn't the first time Luna Legend has refused to participate in creating idyllic childhood moments, much to the hilarious delight of her mother. On Tuesday, the Lip Sync Battle host shared her attempt at trying to take a photo of herself and her two children, with Luna staring stony-eyed at the camera. Teigen documented their conversation on Instagram:
"Luna. Luna please. Luna one smile. Please for mama. Okay that's fine you don't have to. Don't listen to people that tell you to smile. But please can you smile. No it's ok never mind. Maybe one smile?"
Please also note that Luna, spunky as ever, has kicked off her flip flops in a fit of rebellion. Anyone who follows Teigen's social media, which is basically everyone in the world, knows that Luna likes to do things her own way. And both her parents totally encourage her to be her own person, even if it means they don't get to have an idyllic family memory. Even when Luna apparently body-shamed her pregnant mother during bath time, Teigen laughed it off as she told E! News in a March interview:
We take baths together every night and she says a lot of... she can say some hurtful things in the bathtub sometimes. I think yesterday she pointed at me and she's like "mamma yucky." I'm like, "I know, mamma feels kinda yucky."
Before you go thinking Luna's a bit of a handful, here is an Instagram video of her getting excited about animals she calls "Mama" to remind you that she's so incredibly sweet.
This is the great thing about summer holidays with the kids; introducing them to family traditions that they will sometimes love and sometimes not. Watching them become their own people, even when that means they're not cooperating.
And if you can manage to do all of this in Bali, I'm going to go ahead and call that a win/win.