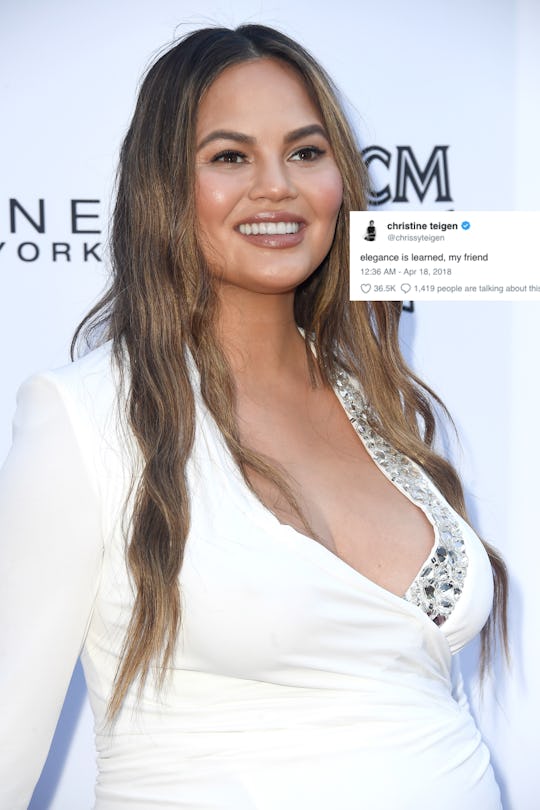 Frazer Harrison/Getty Images Entertainment/Getty Images
Chrissy Teigen Tweeted A Hilarious Bump Photo That Moms-To-Be Will Truly Appreciate
Chrissy Teigen doesn't owe her fans anything, of course. The Cravings author/model doesn't have to share all the hilarious details of her amazing, mad cap lifestyle, and yet she does it all the time. And it's a true blessing, to be honest, especially when she's pregnant. While the pressure to look perfect all the time must be truly exhausting for anyone living in Hollywood, Teigen treats that whole facade with an "elegant" little social media shrug. Teigen tweeted a photo of a takeout box sitting on her bump on Wednesday, and honestly it was about the realest pregnancy photo I've ever seen. Like, giving me flashbacks to my own pregnancy-level real.
Teigen and her husband, Grammy award-winning performer John Legend, are expecting their second child later this year. A little boy, the couple have confirmed, to join 2-year-old big sister Luna. And Teigen is happy to share every truly honest, grim, hilarious detail of her pregnancy. Or more specifically, her pregnancy cravings. Back in February, the Lip Sync Battle host tweeted about how draining pregnancy can truly be, "This baby is sucking the life from me. Drinking my water, making me dry. Eating my food, making me hungry. Taking my health, making me sick. Why do we create these monsters they want us dead?"
In the two months since, Teigen appears to have embraced her new normal, however. As evidenced by the mostly empty takeout container perched so sweetly on her baby bump. Because, as Teigen wrote, "elegance is learned, my friend."
This is one of the reasons why people love Chrissy Teigen. She might be a beautiful swimsuit model, but that doesn't stop her from fully enjoying her pregnancy and all of the delicious food she's eating. I mean, how often do you hear Teigen complain or lament how much weight she might be gaining during her pregnancy? Other than that one time when she was sort of disappointed the 40 pounds she had already gained didn't appear to be going to her butt, pretty much never. And even then, Teigen wasn't upset about the perfectly natural weight gain — she just wanted to pick where it would be distributed, as she noted in a tweet from March. You can't blame a girl for wishing, right?
Instead of beating herself up for the weight she's gaining by growing an entire little human being inside her, Teigen seems to be redirecting her energy to other, more important things. Like an almost constant stream of food-obsessed tweets. Seriously, if you're not sure what you want to eat for supper, give Teigen's Twitter a wee scroll and you'll be starving in no time. Whether she's tweeting about a delicious Thai meal she had with her family, or waxing poetic about Kraft's creamier version of the original macaroni and cheese, she is nothing if not diverse in her palette.
Teigen has a massive amount of social media influence, and in my opinion, she uses it incredibly well. She's honest without being unkind, and she really does give a fair representation of pregnancy. Instead of making it all about the insecurities, the weight gain, or how tough it can be to find space in your changing body during pregnancy, she is all about living her life. Not just eating the food, but gloriously reveling in the food she eats. Which, in a weird sort of way, might give other pregnant women a little subconscious relief from worrying so much. It could even help them realize that loving food is most definitely OK. That being pregnant and gaining weight is the most natural thing in the world — or just gaining weight, generally, because you're eating what your body wants — so stop being so tough on yourself and just eat the yummy food.
Check out Romper's new video series, Bearing The Motherload, where disagreeing parents from different sides of an issue sit down with a mediator and talk about how to support (and not judge) each other's parenting perspectives. New episodes air Mondays on Facebook.