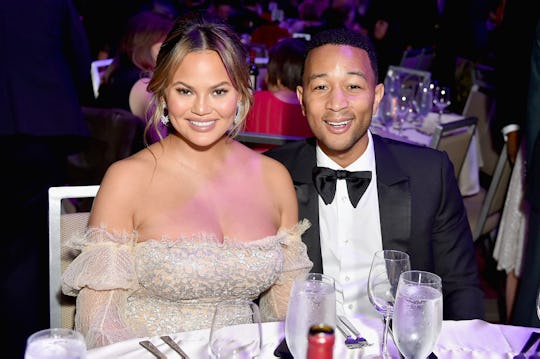 Mike Coppola/Getty Images Entertainment/Getty Images
Chrissy Teigen Wants Twitter To Sign A Birthday Card For Trump, & & The Responses Are So Great
The Twitter war between Chrissy Teigen and President Donald Trump is probably one of my favorite things about the internet. It was canceled for awhile when the President blocked the model from his Twitter account, but a brilliant judge ruled that he could no longer block users... so it's back on like Donkey Kong. And nobody is happier about this than the mother of two. On Wednesday, Teigen tweeted she wants people to sign a virtual birthday card for Trump, and of course Twitter was happy to respond.
The Lip Sync Battle host has been coming for Trump on Twitter for years, long before he became president and was still just a lowly real estate magnate with a television series. It seemed to start back in 2012 when Teigen apparently got riled about Trump's absurd campaign to have then-President Obama release his birth certificate. She tweeted at the time, "I literally pose half naked for a living and u are still the biggest attention whore I know RT @realdonaldtrump. Story will be released today." Things escalated from there, and while Trump never directly responded to Teigen he did retweet someone else referring to her as a "trashy gutter mouth woman."
In the year that followed, Teigen poked and prodded at Trump until one tweet finally broke him. She told him that nobody likes him, and I guess that really hit home.
Teigen might have just recently given birth to her second child, son Miles Theodore, who was born on May 16 (and joins 2-year-old sister Luna Simone with husband John Legend), but don't worry guys. She's not too busy to get savage with Trump on Twitter. Especially now that she knows he can't block her again.
She won't even let up when it's his birthday, apparently. On Wednesday Teigen put out a call to her 10.6 million Twitter followers to sign a birthday card for the President, who turns 72 on June 14. Teigen tweeted:
Hey guys, let's put the jokes aside and all come together to send president trump some birthday messages on this official card where you can write anything u want, all your thoughts and feelings absolutely anything anything for this special day.
And her followers were definitely up to the challenge.
Some messages were straightforward but a little erroneous... he is turning 72 not 100, after all:
Some didn't really have a birthday message at all, per se.
This thoughtful well wisher had a suggestion for how the president might wish to celebrate his birthday.
Some might be considered confusing to the president, especially if he isn't a big fan of Regina George from Mean Girls.
Although he would definitely understand a card written in the style of one of his favorite rappers, Kanye West, I think.
Now some were downright potty-mouthed. Gloriously so, a person might say.
This person just wanted to make sure Trump knew who sent them.
I don't know how President Trump feels about this feud with Chrissy Teigen being reignited, but I think I can safely speak for all of her fans when I say it's great. A bright spot in an otherwise depressing, dull world. I hope she keeps it up.
This isn't even the first time this week that Teigen has savagely burned Trump; when his son Eric Trump was quoted by The Hill as saying that his father's life became "exponentially worse" after becoming president, Teigen took him down with six words:
I'm not sure how Trump will take these birthday wishes. Actually let's get real here; I doubt he'll even bother to read them. But the beauty of the internet means that we got to read them, and our lives were a little better for it.