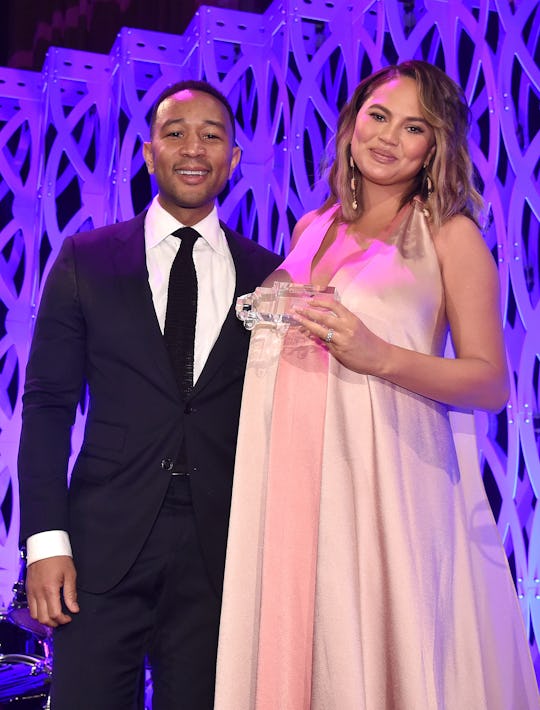 Bryan Bedder/Getty Images Entertainment/Getty Images
'Somebody's Herrrrrrre!' Chrissy Teigen Welcomes Baby No. 2 With John Legend
"Somebody's herrrrrrre!" And that somebody is the little somebody we've all been waiting for! Chrissy Teigen and John Legend welcomed baby number two late Wednesday night, People confirmed after the model and super mama shared the news via Twitter. Though the couple's baby wasn't due until June, it seems like he did his mom a favor by making an early appearance, as she's been expressing some feels on social media that anyone who has every had a baby can probably relate to, which can loosely translate in any language to, let's get this over with!
Teigen, who has been famously frank and open about her motherhood journey, confirmed earlier this year that she and Legend were expecting a baby boy this time around. So that means little Luna Legend, age 2, is now officially a big sister, with a little brother to look after! Though, it may be a while yet before she really understands allllll the fun that will come along with that role.
"I don't think Luna has a concept of exactly what it means to have a little sibling yet," Legend told People back in March. "She'll figure it out sooner or later, and she'll probably have some moments where she regrets it! But we're excited."
OK, but back to that adorable, and oh-so-Teigen-like birth announcement Tweet. I mean:
So stinking cute.
Luna actually started her big sister duties early — back in November, she helped her parents share the exciting news about the upcoming addition to their family. Teigen posted an announcement video to her Instagram, perfectly captioned, "It's John's!"
You can hear Teigen saying, "What's in here?" and little Luna adorably replying, "Baby!"
Oh the feels.
And now, that baby is here, and not a moment too soon! It was just a week ago that Teigen declared she was pretty much ready to be done being preggars! "Happy pregnant Chrissy is gone. meet OVER IT Chrissy," she tweeted exactly on week ago. "Wanna hold my boy let's do thisssssss."
When a fan replied that Teigen had been "pregnant for three years," Teigen concurred, sharing that it felt even longer for her because thanks to IVF, she knew a lot sooner into her pregnancy than women typically do.
Another thing that Teigen's been super up front about is that even though she is already a mom of one, she definitely does not consider herself a parenting "expert," by any means!
"I still hit up other people for advice all the time, especially people with two kids," she told The Cut last month. "That's something I'm really curious about right now — how to deal with your first when you have a second coming along, especially when they're so young."
She also added that she's learning a lot from a lot of her best friends who have two kids. Her biggest worry? "I get really worried I'm not going to pay enough attention to Luna, but they've told me you actually start overcompensating and paying too much attention to your first," she shared. "So there are a lot of these little things I always wonder about."
Only having one child myself, I can only imagine the emotions a mom experiences when about to welcome her second little bundle, but given everything we know about Teigen so far, I'm betting this adjustment will go pretty smoothly. By all appearances, the one important thing this family already has going for it is an abundance of love — and, perhaps just as importantly, a sense of humor!
I for one can't wait to learn more about this new little guy, once his parents are ready to share him with the world. Happy birthday, little one! And congrats to Chrissy, John, and Luna!