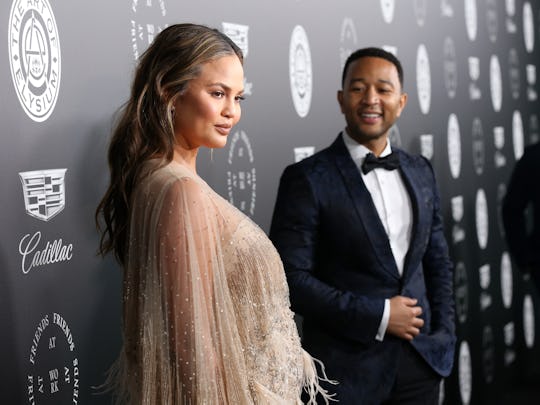 Phillip Faraone/Getty Images Entertainment/Getty Images
Chrissy Teigen & John Legend Won't Be Doing A Sex Reveal For Their Baby & It's Respectable AF
Twitter's favorite voice of the people and mommy-to-be Chrissy Teigen knows the sex of her coming baby, but don't expect her to tell. This week, Teigen said she won't reveal her new baby's sex and that she and husband John Legend plan to keep this info about their second bundle of joy a secret — for now, at least, according to Extra. Her pregnancy with the new baby has been "very different" from her experience with her daughter Luna, but that doesn't automatically mean that the new little Legend is a boy.
Teigen spoke with Extra's Mark Wright and fellow host of Lip Sync Battle LL Cool J in preparation of the show's new season. During the course of their conversation, the topic of Teigen's new baby came up. She pointed out that the pregnancy experience so far is "very different than the other one." Adding, "Well, I think I've put, I put on all my weight that I did with Luna, but I'm only five months, so... We're having a good time with it. I have a lot of energy."
Teigen has made a name for herself by being open and honest, but not everything is up for discussion. When asked if Luna is expecting a brother or sister, she responded by saying, "I'm not gonna say. I want to say so bad." Of course, she and Legend do already have the answer to that question. "Yeah, we know because we did the IVF route again, of course," she said, according to Extra. "Then John was like, 'Let's have something for us,' so I'm giving him that."
Teigen has led some to believe that her and Legend's second baby is a boy. On Jan. 30, 2017, she tweeted, "Since this is coming up again, I said our next baby would be a boy because that is the embryo we have left. A boy. So. Yeah." This was well before she got pregnant with the latest baby, so there is no guarantee that the couple didn't change their minds about which embryo to use. So while the baby could be a boy, it also may not be.
Jeffrey Steinberg, M.D., a leading IVF specialist, explained to Vogue how selecting a baby's sex comes into play with IVF. The now nearly 20-year-old technology of gender selection is an off-shoot of the chromosomal analyses used to look for genetic diseases. As Vogue explained, doctors offer parents genetic profiles of their embryos to determine which, if any, are missing chromosomes — making them unviable. As a by-product of these tests, they are also able to inform couples of each embryo's sex. When fertility issues are on the table, any drawback of "choosing gender" is outweighed, said Steinberg:
If I've got a tool that can raise the chances of getting pregnant by 25 to 30 percent, I'm going to use the tool. The side effect of that tool is that you happen to learn gender.
Teigen and Legend went through the same process with their first pregnancy, which resulted in little Luna. Teigen spoke about the decision to have a girl with People. "I've made this decision," she told the magazine. "Not only am I having a girl, but I picked the girl from her little embryo. I picked her and was like, 'Let's put in the girl.'" When Teigen shared the news on Twitter, not all of the reactions were positive. In fact, she endured quite a bit of dogging from her followers, according to SELF. Fans were upset that she would prefer a specific sex over another, and worried that she and Legend would have "thrown away" male embryos in their pursuit of a girl.
Famously, Teigen is not one to take online criticism lying down. She responded to her critics in this case as well. She pointed out that many on Twitter clearly don't understand IVF. She also mentioned how common the process is, writing. "You'd be surprised at how many people you know go through this. Also every doctor knows the sex of the embryos, it isn't some grand secret."
In her interview with Extra, she shared that she is keeping the sex of the coming baby a secret for John, which is totally their right. But, considering the flack that she got last time that she shared, I don't blame her at all for not wanting to open up another can of worms.
Check out Romper's new video series, Romper's Doula Diaries:
Watch full episodes of Romper's Doula Diaries on Facebook Watch.