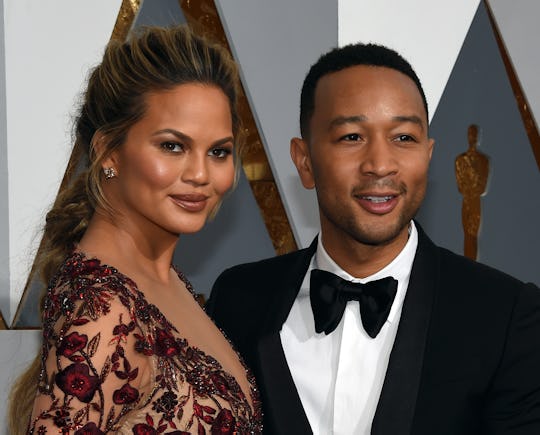 Ethan Miller/Getty Images Entertainment/Getty Images
Chrissy Teigen's Baby Shower Was Different In One Very Important Way -- PHOTOS
It was a celebration fit for a queen — and a little princess. Judging by Chrissy Teigen's baby shower photos on Instagram, it looks as though the model's pregnancy was celebrated in full Hollywood-regal style, and at a jewelry store of all places! According to the Daily Mail, Teigen's shower took place at Material Good, a jewelry store in SoHo, and guests wore golden paper crowns adorned with glitter and crystals. Teigen even brought her beloved bulldog, Pippa, along to the event, carrying the pooch down the streets of New York City on her way to the shower (while heavily pregnant in a white bodycon dress and heels, no big deal). But the most noteworthy detail of her super glam party? It was actually a joint shower: her husband John Legend was there to celebrate as well, according to Us Weekly.
Legend's involvement in the shower isn't too surprising, given how excited the super-close couple seem to be about their little girl's impending arrival. They've both been active on social media during her pregnancy, sharing sweet photos and details of their daughter-to-be. And given the difficult road they've had to go down to become parents in the first place, it seems only fitting that they'd be celebrating together with their closest friends and family.
Teigen has been upfront about their fertility struggle and the fact that they needed IVF in order to finally become pregnant after years of trying. And, according to People, Teigen has admitted to wanting a big family — one that will likely require more rounds of IVF to achieve:
The number of embryos we have left is not matching the number of people I want at my dinner table, so I'll have to do it again. I wish I had frozen my eggs earlier. We have a few more on ice. Who knows what will work?
The outspoken mama-to-be has been on the receiving end of plenty of public criticism throughout her pregnancy, about everything from choosing to eat cereal while pregnant, to admitting to choosing the gender of her baby during the IVF process. But Teigen's laid back attitude towards her haters — and to her pregnancy in general — has been pretty refreshing. About her pregnancy, Teigen told Us Weekly,
We're pretty mellow with it. I'm pretty anxious normally with most things in life, but with this, we're very calm and we feel very ready, despite having not really done anything ... I think for the most part, we're very lucky to have my mom and his mom with us during the summer, so we'll learn as we go, just like with anything else.
Unsurprisingly, Teigen's baby shower looked picture-perfect, and seems like a wonderful way for the couple to celebrate (together!) everything they've overcome to be parents. As anyone who's ever struggled with any aspect of pregnancy knows, it can be heartbreaking when your dreams of becoming a mother don't go the way you thought they would. So for Teigen and Legend, finally being able to celebrate impending parenthood must have felt extra special.