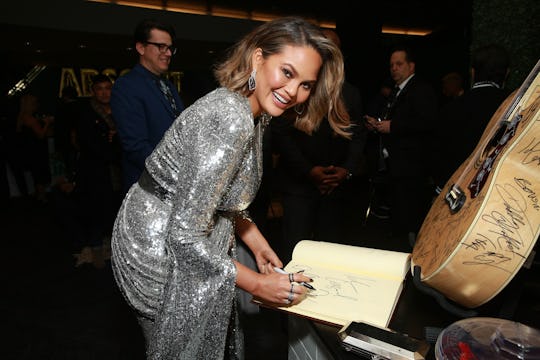 Robin Marchant/Getty Images Entertainment/Getty Images
Chrissy Teigen's Kid At Her Prenatal Appointment Is Every Pregnant Mom With A Toddler
Everyone seems to think your first pregnancy is going to be your toughest one. Which I guess it sort of is, because it's all so unknown. Even though everyone tells you all of the stuff that's going to happen to your body, it's still all new. But I can tell you as someone who has been there; being pregnant the second time is a whole new ball game. Especially if you have your kids close together. Why? Because toddlers are a thing, and they sort of don't care if you're huge and tired. Like Chrissy Teigen's daughter at her fetal stress test... they'll just crawl all over you. No more of that delicate princess treatment you got to enjoy during your first pregnancy. Toddlers super don't care at all.
The Lip Sync Battle host is expecting her second child, a boy, with husband John Legend later this year. And, as anyone who follows her on social media knows, she already has a 2-year-old little girl, Luna Simone, keeping her crazy busy. In fact, it was Luna who let the world know via Instagram that her mom was pregnant last November. Teigen shared a video where she points to her own belly and says, "Luna, what's in here?" to which Luna replies "Baby!"
Since then, Teigen has gotten more pregnant, and the sweet, gentle moments of Luna pointing at her mom's belly are long gone. These days, Teigen is all of us. According to Twitter, she is trying to go to her fetal stress test and bring her toddler along and it's not going well. Luna is climbing her mom like a tree and trying to touch the fetal monitor and she's just really happy about all of it.
Teigen is laughing it off, saying "Luna, you're going to fall!" with pretty much no heat to her voice at all. I'm glad she's holding on to her sense of humor, because I welcomed my first two sons just 20 months apart and I can tell you... she's going to need to be able to laugh at stress. Like, a lot. Because toddlers just aren't that concerned about your comfort, bless their adorable little hearts. And there appears to be only one thing that might be considered their Kryptonite; staying still.
As evidenced by this video of Luna Legend dancing in her tiny car that Teigen shared on Instagram.
Teigen might have bigger concerns than a busy toddler at her fetal stress test these days; it seems she has been reported as having suicidal thoughts to the Twitter gods. All because she tweeted last week that despite "loving him more than I knew I was capable of loving someone, I still want to die" when her musician husband John Legend wears sandals.
Ah, to spend a day in the ever-packed life of one Chrissy Teigen, swimsuit model, cookbook author, and social media maven extraordinaire. One can't help but wonder if she'll manage to keep us posted about her life when she welcomes her new baby boy later this summer. After all, she's shared so much of her daughter Luna's life with fans over the course of her two years on the planet.
While Teigen has come under fire for sharing so many pictures of her daughter, she told People that she's "not too calculated" about what she puts on social media about Luna:
There's not too much thought that goes into anything I post. I'm not like, 'Okay, I'm going to post this at 2:00. I'm going to touch up her face.'
I feel like she'll bring the same philosophy to her new baby. Whether she'll find the time to post with two kids, however, is a completely different story. Best of luck to her.