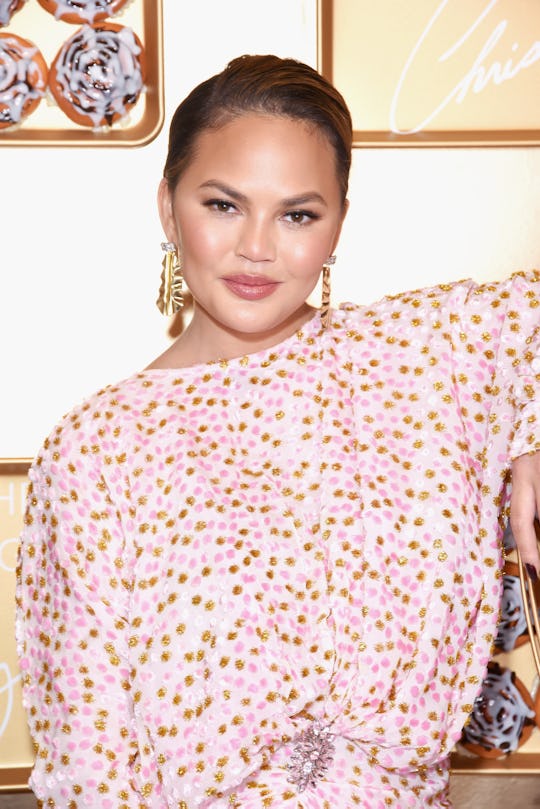 Presley Ann/Getty Images Entertainment/Getty Images
Chrissy Teigen Shared A Video Of Luna Feeding Miles & OMG, My Heart Can't Take It
I don't like to do that thing to kids where I label them, but I'm about to label Chrissy Teigen's kids so I guess I am doing that thing. Because how can you look at her two adorable kids with John Legend and not realize that Luna is the Chrissy and Miles is the John? It's so painfully obvious I almost can't stand it. Especially in the video of Luna helping Miles with his bottle... if that girl isn't exactly like her mom, I don't even know what's happening in this world anymore.
The Cravings: Hungry For More cookbook author gave birth to baby boy Miles Theodore back in May, meaning he's just 6 months old. But that doesn't mean you can't get a very true sense of his personality from his mother's proud Instagram posts. Ditto for 2-year-old daughter Luna; she's like the internet's poster girl for spicy toddler.
Although to be fair to little Luna, she clearly loves her baby brother; so long as she can kind of boss him around like she does in this video Teigen shared on Tuesday on Instagram.
In the video, Luna was helping to feed Miles his bottle but got fed up with doing all the work herself right quick. She handed her mild, sweet-faced baby brother the bottle and said, "Use two hands Miles" like this was something he could actually understand.
My favorite part of this video, other than Luna's firm insistence that her brother find some independence, was Miles' look of perplexed adoration as he gazed at his big sister. I won't lie to you; I sort of assume this is exactly how John Legend looks at his beloved wife Chrissy Teigen on a daily basis.
Other fans took to the Lip Sync Battle host's Instagram feed to share the burgeoning love between the two siblings. "They are beautiful! And little Miles is a carbon copy of his daddy!" one adoring fan wrote.
Another commented, "The way he looks at his sister and how Luna can speak full sentences! She's so patient, my heart warmed up."
"Omg. She is talking so much. So adorable," one more said.
I'm not the only one who is mesmerized by how similar Miles is to his EGOT-winning dad. Teigen spoke to E! News in October about how her each of her two kids take after their parents, and now I feel so vindicated:
Miles is so reserved—he's just John. He's just a cuddly, lovable little ball. He loves the quiet moments. He loves story time, but Luna was just such a bull. From the moment she came out, you just knew she was going to be such a Luna—just a nutcase. He's not really into anything. He loves sleeping and milk.
And also bath time with his big sister, of course.
This is one of the best things about having more than one kid; seeing their relationship develop with each other. And let's face it; also figuring out which one of your kids is most like you or your partner.
I'm sorry, but this is very fun, too.
This first-time mom wants to have a home birth, but is she ready? Watch how a doula supports a military mom who's determined to have a home birth in Episode One of Romper's Doula Diaries, Season Two, below. Visit Bustle Digital Group's YouTube page for the next three episodes, launching every Monday starting November 26.