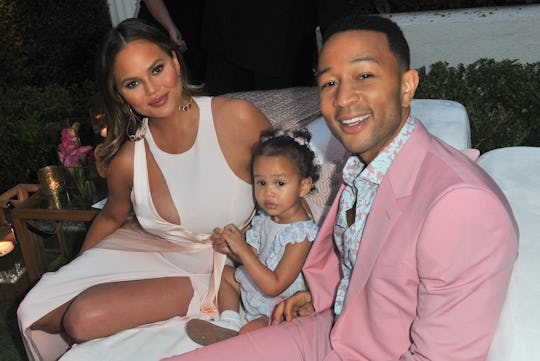 Jerod Harris/Getty Images Entertainment/Getty Images
Chrissy Teigen's Daughter Luna Dumping Cheese On Her Pasta Is All Of Us
One of the great tragedies of the 21st century is what I like to think of as the war on carbs and dairy. Yes, I get that there is a whole bunch of scientific research to suggest that carbs are probably bad for you and that eating too much cheese is not going to do you any favors either. But still... I miss eating pasta and cheese with reckless abandon. Which is why I loved seeing Chrissy Teigen's daughter Luna dumping cheese on her pasta and eating it with her bare hands. Because this is pretty much all I ever want to do, minus the crippling guilt and consequences.
I mean, you had to know that any child of the Cravings: Hungry For More cookbook author was going to have a deep love for food. Teigen and her husband, singer John Legend, have both been open about their passion for eating all of the foods, even carbs and stuff. One can only assume that once their 4-month-old son Miles develops teeth he'll join the rest of the family in the kitchen for feasts. But there's something about 2-year-old Luna's serious enjoyment of eating pasta that is riveting to watch. She's not smiling or anything; any followers of Teigen's Instagram already know that Luna is a pretty straight-faced kid. She is elbows deep in spaghetti and really has no time for anything else right this moment.
Teigen shared a tweet from Gibson Johns of the short video of Luna eating spaghetti with the caption "My girl."
Now let's discuss everything that is so great about this video, shall we? First of all, it looks like Luna is wearing a princess dress. In fact, I feel fairly certain we've seen this dress before... when she and her parents visited Disneyland back in March.
So she obviously really likes to dine in style. That dress is next level. But despite wearing a super poufy princess dress, Luna dove into her spaghetti with two hands, and even had a little bowl of parmesan cheese to sprinkle on at the end. Which she did indeed. She started off with a little pinch here, a little pinch there. Trying to be all class and restraint. Then just dumped the whole damn bowl of cheese on her last few bites.
I've never been more proud of a child who isn't mine.
Luna isn't just a fan of spaghetti and every last ounce of cheese she can get her hands on either. There's a great picture in Cravings: Hungry For More of Luna taking down some of her mom's fried ribs, and Teigen told the Courier Express that her daughter is a girl after her own heart:
Her favorite recipe is the Thai Soy-Garlic Fried Ribs. The picture in the book where she's eating one, I think that was her ninth rib or something! It was all over her face. It makes me so happy because there's this little kid loving these fried chunks of bitter black garlic on these soy sauce ribs, and it's her favorite thing on the planet. So she is very much her mother's daughter. Forget cakes or desserts or cookies; she'd much rather have, like, a second go at pasta.
Luna has convinced me. Every once in awhile a girl needs to eat with some joyful reckless abandon. Throw a bunch of cheese on that pasta. Gnaw on a fried rib. Live life.
It's almost like she could be a food guru for us all.