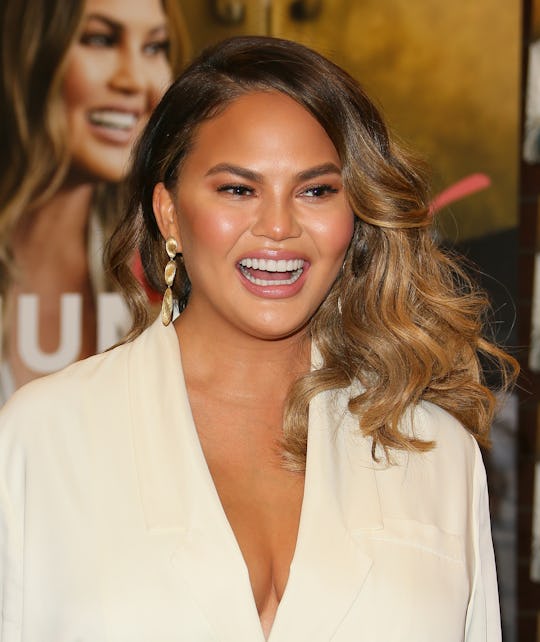 Jean Baptiste Lacroix/Getty Images Entertainment/Getty Images
The Sweet Way Chrissy Teigen's Daughter Luna Supported Her Grandma As She Became A U.S. Citizen
I've always been a fan of Chrissy Teigen's relationship with her mom, Vilailuck Teigen. They seem to hit the right beat between being friends and mother and daughter that I think might be an especially tough balance to find. But truth be told, it's actually the relationship between Vilailuck and Luna, her 2-year-old granddaughter, that gets me right in the feels every time. Add a little patriotism into the mix and I'm a goner. This week, Luna just supported her grandma as she became a U.S. citizen in a sweet, small way, and it was really quite moving.
Chrissy Teigen's mom, who many social media users might recognize by her nickname Pepper Thai, lives with her, her husband John Legend, and the couple's two children in Los Angeles. And she just officially became a U.S. citizen. On Tuesday, Legend shared a proud tweet announcing that his mother-in-law had just successfully completed her U.S. citizenship test with a full 100 percent. An impressive feat, obviously, and in a video her Cravings: Hungry For More cookbook author daughter shared on Twitter, Vilailuck couldn't have looked more excited. Especially since she was holding one of her favorite people in her arms: Luna was there holding an American flag as her grandmother recited the Pledge of Allegiance.
In the video, Luna can be seen imitating Vilailuck (who was born in Thailand) by placing her tiny little hand over her heart and trying to follow along with the Pledge of Allegiance. And my own heart hurt from how sweet and supportive and loving she has become already.
Of course, living with her grandmother, who she calls "Yay," as Teigen told PopSugar, has made Luna exceptionally close to her.
It's so helpful to have her live with us. She's the most incredible grandma. Luna is so close with her. 'Yāy' means grandmother in Thai, so she goes 'Yāy!' all day long, and it's just fun because my mom is a kid at heart. She just has so much energy, and I just lug myself at this point.
It probably doesn't hurt that Vilailuck has that trademark Teigen sense of humor, either. At the beginning of October, three generations of Teigen women (plus baby boy Miles) attempted to put together a pretend YouTube video with Luna. And she was simply not having it, yelling at her mom "Don't say my name!" as the adults tried not to laugh. As with everything in that household, it looked like a blast.
I'm so glad Chrissy Teigen and her daughter were there to support Vilailuck as she became a U.S. citizen. Because it seems to me as though she's always in their corner. Always on hand to support her family, whether the Lip Sync Battle host needs help with her kids or her pets or even to go on a hilarious search for overripe bananas to make banana bread, she knows she can count on her mom being there for her.
Luna is learning to be supportive from two strong women. Her future is looking pretty dang promising.