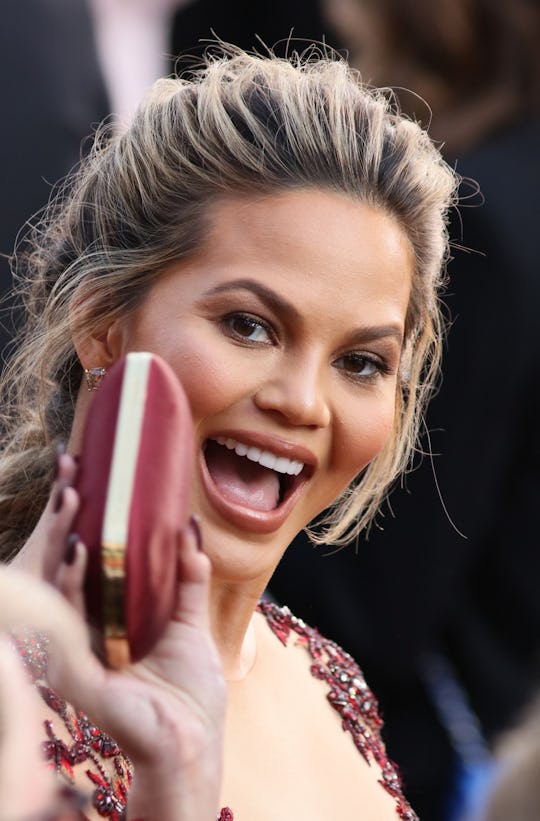 AFP/AFP/Getty Images
Chrissy Teigen's Face At The Oscars Is Her Cry Face Meme All Over Again
The Academy Awards are usually a time for stars to shine, but with all eyes (and cameras and Twitter) on them, sometimes they can't help getting caught doing something silly. Chrissy Teigen's face at the Oscars is an example of just that. Teigen is forever one of the realest female celebs out there and she tends to show exactly how she feels exactly when she feels it. During Sunday night's Oscars ceremony, Stacey Dash, who had previously stated on a Fox News program that the #OscarsSoWhite controversy was being blown out of proportion and that there was no need for Black History Month, came out on stage during a sketch with host Chris Rock. It was totally awkward. And Teigen openly showed her distaste for the moment.
But it was the exact same face she made at the Golden Globes last year when she was caught crying after her husband John Legend won an award for his song "Glory" in Selma. Her face became an instant meme. It's not obvious that she's actually crying — she just looks super distressed and miserable. After the Globes, she quickly tweeted, "Sorry, I don't practice my cry face ok." Teigen always wins when it comes to the Internet, which is why everyone can't help but love her. Again, she was quick to respond to the attention:
It Really Is The Exact Same Face:
The Internet Wants More!
Chrissy Teigen is pretty badass. She just doesn't care what people think of her. Not only does she live-tweet personal details about her life, her marriage, and what she's eating, she always takes people to task. Just last week, she defended herself against critics for giving her grief about choosing a female embryo. While many women would be be mortified if they were caught looking less than absolutely perfect on national television, Teigen is able to laugh at herself and tweet about it. Never change, Chrissy. Please.