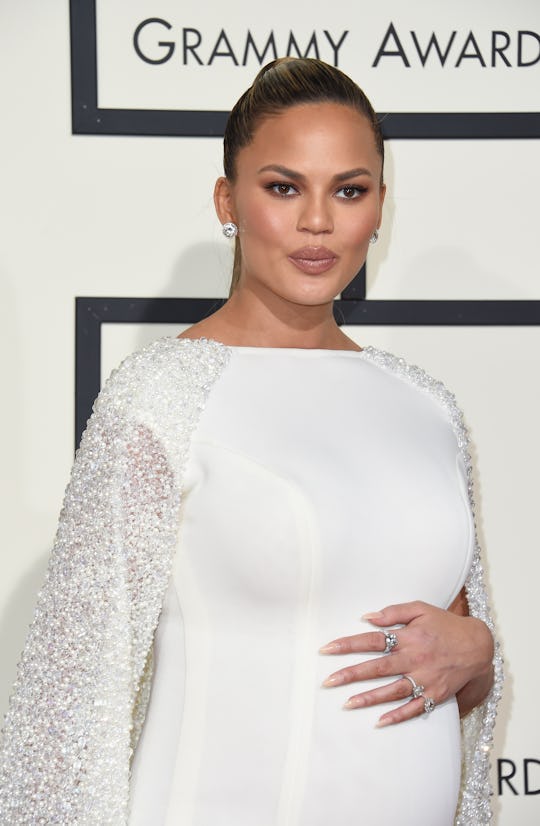 VALERIE MACON/Getty
Chrissy Teigen's Grammys Dress Resemble's Kim Kardashian Maternity Look, & That's Not Surprising
Did she steal her look? More like she borrowed it from a BFF. In perusing the red carpet, many fashion fanatics noticed that Chrissy Tiegen's Grammys dress looks like Kim Kardashian's maternity look from her most recent pregnancy. And to be honest, we're not mad about it at all. After all, what are friends for if not to offer pregnancy advice and loan you some designer maternity dresses?
OK, to be fair, Tiegen didn't borrow Kardashian's dress. But she did borrow Kardashian's maternity fashion tips and rocked a very similar dress. The mom-to-be and model arrived on the red carpet wearing a form-fitting white gown with a white lace cape. That chic dress paired with a sleek low ponytail and pregnancy glow made for a gorgeous red carpet look. And one we've seen before. The dress, which is stunning beyond belief, is eerily similar to a white Valentino gown Kardashian wore to the InStyle Awards in October 2015.
And the similar style isn't a total surprise, During Tiegen's red carpet interview with Ryan Seacrest, she said Kardashian has not only imparted some styling tips, but also some words of pregnancy wisdom.
"Kim gave me advice even before we started," Tiegen, who was with Grammy-winning husband John Legend, told Seacrest. "She's been here the entire time." And even though we're sure Tiegan could have pulled off a killer look for the Grammys, it's nice to have soem tips from a fellow stylish mom-to-be.
And Kardashian isn't the only one imparting pieces of parenting advice. In a somewhat awkward interview situaiton, Seacrest asked Legend if Kanye gave him any fertility advice. Of course, Legend didn't miss a beat and provide a lgreat answer.
"He said ask Kim," Legend said.
You gotta love this duo, am I right?