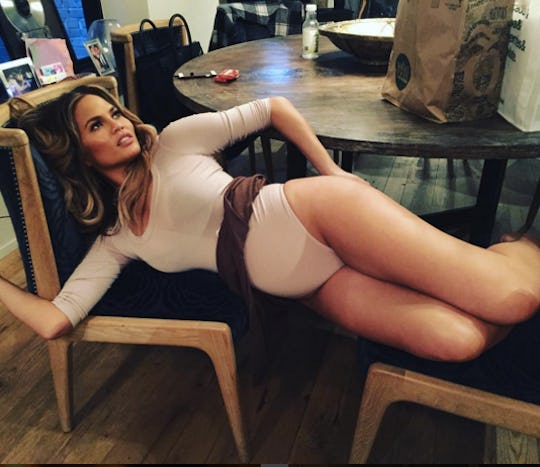 chrissyteigen/Instagram
Chrissy Teigen's Latest Instagram Sends Yet Another Body Pos Message To Women Everywhere
From taking part in the #FreeTheNipple campaign to talking about her experience with IVF, Chrissy Teigen isn't afraid to bare all on social media. And in one of her latest Instagram posts — in which the pregnant model can be seen laying across two chairs while sporting a long-sleeved leotard — Teigen shows off her "new thighs," and happily welcomes their arrival. It's not often that a supermodel is so candid about her changing pregnancy body, but therein lies the magic that is Chrissy Teigen.
If you've ever been pregnant, then you know all too well that pregnancy puts your body through a whole lotta changes. But as Teigen's caption proves, she's not scared off by any of them. "Hello new thighs!" she writes. "You appeared out of nowhere but I'm not mad at it!" Yep — one again, Teigen proves she's all about spreading the "love yourself as-is" message to her legion fans over social media.
And that's one powerful message. When you think about it, you can waste so much time lamenting so-called "imperfections." Well, Teigen isn't having it. Her refreshing candor about her body (and love of carbs) on Twitter makes her appear like an authentic person who I want in my squad. I especially love how she continually crushes it when speaking for women's bodies in the media. Balancing wit with self-acceptance is no easy task, but Teigen does just that on the reg across all her social media accounts. I applaud Teigen for shifting the message about women's bodies from what they look like to what they can do (in this case, grow a brand new person).
As a supermodel, she's in a fantastic position to speak to millions, saying women have the right to share (or keep private) whatever they want about their bodies. It's their choice, because their bodies belong to them (not the government or social media or as rhetoric to pit women against each other or themselves). Here's Teigen on Twitter taking on the Internet haters who shamed her for sharing a bump pic and openly wondered just how many kids she was having:
Teigen has also battled Instagram on the right to #FreeTheNipple, after the app took down one of Teigen's topless shots this July.
Does that sound like a challenge to you? It sure does to me. Bring it, girl!
Teigen's sense of humor, confidence, and self-esteem continue to make her one badass ambassador of the body pos movement.
The fact that she's a super successful model is just another feather in Teigen's hat (or shall I say crown).
Images: chrissyteigen/Instagram