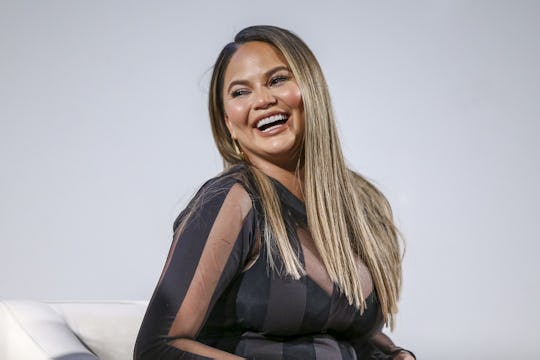 Rich Polk/Getty Images Entertainment/Getty Images
Chrissy Teigen's Photo Of Her "Vagina Steam" Post-Birth Is As Hilariously Honest As You'd Expect
I'm not 100 percent sure what we did as a collective human race to deserve the likes of Chrissy Teigen, but it must have been pretty great. She teaches us how to cook, how to enjoy a really uncomfortable session of celebrity lip-syncing, and how to treat social media like a delightful open diary. But perhaps more than all of that, the Cravings cookbook author encourages us to be super real and honest with each other and ourselves, especially when it comes to parenting. And so it was that on a happy Monday Teigen shared a photo of her oh-so-glamourous "beauty routine" after giving birth to her son last month, because I guess she really does love us and want us to be happy.
The former Sports Illustrated model is the mother of two kids with husband, "All Of Me" singer John Legend. There's 2-year-old daughter Luna, who is already the best kind of famous there could be: internet famous for simply being adorable. Then there's little baby boy Miles, who was born in May, a few weeks earlier than expected but thankfully healthy, according to HuffPost. And what has his mom been up to in these short months since giving birth for the second time?
If you're going to believe her Instagram, which you absolutely should, she's been working on a whole new type of beauty routine that every new mom can appreciate. Including steaming her vagina.
The Lip Sync Battle host shared a particularly candid shot of herself deeply immersed in her new beauty routine, which she wrote in the caption consists of:
face mask / heat pad / vagina steam no I don't know if any of this works but it can't hurt right? *vagina dissolves*
Why is she steaming her vagina, you so cleverly ask? It's possible she was inspired by Gwyneth Paltrow, who extolled the virtues of steaming one's vagina in a Goop newsletter three years ago. E! News reported that Paltrow became a fan after trying out the "steam douche" at the Tikkun Spa. While Paltrow said the entire spa experience was "next level," she was an especial fan of the process of steaming her vagina, as she wrote in her Goop newsletter:
You sit on what is essentially a mini-throne, and a combination of infrared and mugwort steam cleanses your uterus, et al. It is an energetic release — not just a steam douche — that balances female hormone levels.
And now the steam douche has another famous fan, Chrissy Teigen. Or does it?
As tends to be the case with Teigen, her foray into vagina steaming caused some interesting chatter on Twitter, including a tweet from Canadian Ob/Gyn Dr. Jennifer Gunter, who told Teigen; "The vagina steam is a scam. Potentially harmful. Sitz baths definitely endorsed."
Teigen's response to Gunter, who she seems to know, opened up a fairly wonderful thread on Twitter about vagina doctors, their knowledge, and Teigen's apparent need to buy things that are so-called scams.
For those of you who might be wondering whether or not steaming your vagina is actually a good idea, maybe do a little research before you buy. According to a 2015 article in Women's Health, there are a few reasons why you might not want to steam your vagina. It messes with the good bacteria in your lady parts, it could burn you down below because steam is hot, and it doesn't necessarily help balance hormones since those hormones are in your ovaries and the steam might not even make it that far, as Women's Health explained.
Yet another reason to worship at the altar of Chrissy Teigen. The woman just test drove a vagina steam for us and now we know it might not be the best idea. Talk about taking one for the team, right?