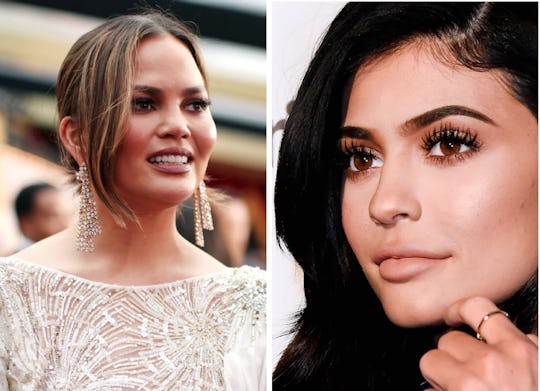 Christopher Polk/Getty Images Entertainment/Getty Images; Frazer Harrison/Getty Images Entertainment/Getty Images
People Keep Making This Joke About Chrissy Teigen & Kylie Jenner — & It's Sexist AF
Chrissy Teigen has been dominating the headlines in a major way following her big announcement on Tuesday that she's expecting her second child with husband John Legend. As in, she just may have edged out the Kardashian/Jenner sisters — and their own babies-to-be, both those confirmed (Kim Kardashian) and rumored (Khloé Kardashian and Kylie Jenner) in the entertainment world's psyched for the time being. Which means that fans and haters of the women alike are, of course, convinced that there's some serious jealousy for the spotlight in the equation. But I'd like to posit another theory: that Teigen's pregnancy is a reminder that women aren't competing with one another as much as stereotypes would lead you to believe.
The idea that women are constantly out to tear down other women for their own gain, that we see another's failure as our own success, is a pervasive and damaging one. And that cultural belief is a big part of why people are so quick to assume that, when two or more women in the public eye have similar experiences, they're mad about it, hoping to see the other stumble and fall.
Teigen's pregnancy announcement — an adorable Instagram video in which her 19-month-old daughter, Luna, points at her belly and says "baby" — is the perfect example. That's because, not long after it went live, some started speculating that Kylie Jenner must be pissed about all the attention Teigen is getting.
Such takes appear to be few (so far), mercifully, but, oh boy, are they bad. Rumors that Jenner is expecting her first baby with boyfriend Travis Scott — oftentimes "confirmed" in articles by unnamed "sources" — began circulating suddenly in late September. Ever mysterious, the 20-year-old reality TV star and makeup mogul has not confirmed or denied she's pregnant, but she has dropped what many fans believe to be clues. These instances, such as the time she Snapchatted a photo of her convenience store haul that included tampons, pretty much guarantee that she's doing what she can to keep people guessing and to keep her name in the news despite the relatively low profile she's maintained lately.
Yes, Jenner — and most of her immediate family — makes her living in part by staying relevant. But that does not mean that she's at home pulling her hair out over Teigen's news and poking a Teigen-inspired voodoo doll with a pin. It's true that there is some research that suggests that women tend to compete with one another as a symptom of evolution, but assuming that is what's going on here with zero evidence is way, way off base. What's more, it perpetuates an idea about women that's largely damaging to them.
After all, there are plenty of women — celebrity and otherwise — who make a point of lifting up and supporting one another. For proof, look no further than the recent #WomenBoycottTwitter event, when women who use the platform took a day off in solidarity with actress Rose McGowan when she was suspended for tweets she posted after accusing Hollywood producer Harvey Weinstein of allegedly raping her. (Weinstein has denied allegations of "unconsensual sex" and "apologized for past behavior against colleagues and has sought treatment," according to E! News.) Or consider none other than Beyoncé, who adopted an impressive and outrageously talented roster of younger female musical acts as her own protégés and signed them to her record label recently.
So, instead of figuring right off the bat that women are natural born enemies, consider the fact that Jenner and Teigen probably have some love for each other. Like, remember last year when Jenner's sister Kim Kardashian actually threw a baby shower for Teigen, her good friend? Now, that sounds a whole heck of a lot more like most of the women I know.
Check out Romper's new video series, Romper's Doula Diaries:
Watch full episodes of Romper's Doula Diaries on Facebook Watch.