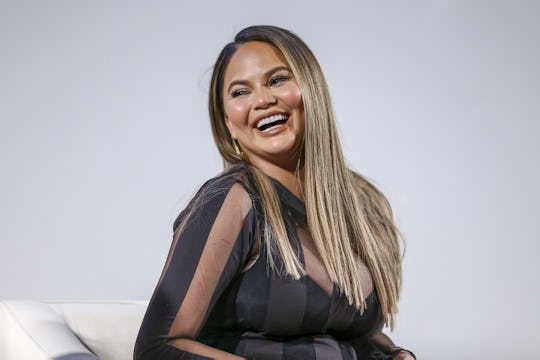 Rich Polk/Getty Images Entertainment/Getty Images
Chrissy Teigen Just Summed Up Watching The Met Gala Pregnant On Instagram, & It's So Relatable
The first Monday in May is synonymous for high fashion, interpretive and wearable art, and sometimes, some really bizarre outfits. For most of sitting at home, it's all of that plus a delivery pizza and a ready-to-hit-send tweet draft. Even for one of Hollywood's favorite stars, currently very-pregnant Chrissy Teigen, the Met Gala this year was watched from the comfort of her own home. Of course, it wouldn't be a big night for Hollywood if Teigen didn't participate in the conversation in some way, and of course, the supermodel's spot on Instagram about being pregnant while, what seems like, the rest of the world is wearing 7-foot-tall feathered wings on a red carpet in New York City will not only make you feel seen, it will make you feel heard.
"Waiting for my turn on the carpet at #metgala!!!! always an honor!!!" Teigen posted hours into the Met Gala's red carpet, while reclining on an L-shaped couch that looks much more comfortable than walking up a bunch of stairs into the Metropolitan Museum of Art. Sure, Teigen missed out on the fashion industry and Hollywood's interpretation of Heavenly Bodies: Fashion and the Catholic Imagination, but lest we ignore that tonight she was joined by a true angel, Stassi Schroeder of Vanderpump Rules, who is hovering over Teigen and her pregnant belly in the Instagram picture.
Teigen, who is a frequent red carpet attendee was noticeably absent from the Met Gala this year, but she has a pretty legit excuses. (On a scale of 1 to my-dog-ate-my-homework, this one checks out.) As you can tell by the picture, Teigen is pretty pregnant — like, a month out, pregnant — and decided it was "too risky" to attend, she told a Twitter user who inquired the morning of the gala.
Teigen, who is expecting her first son (second child) with husband John Legend in June, didn't miss out on all the fun that is to be had while attending an event as glamorous as the Met Gala. Usually, on such a night, the model would probably spend some time getting completely Met Gala ready with her glam squad, but because she spent it at home, she walked her followers on Instagram through her current look of the night, and it was pretty iconic.
this year's #metgala GLAM was #SUPER important to me as I wanted it to really embody the heavenly bodies theme!!! I think we nailed it!! Swipe for for #creds!!! First I shampooed my #hair yesterday with #shampoo then I let it sit for 4 minutes while i #shaved the areas I could see on my #body.
Make sure to swipe through to see the full 180 degree look Teigen is serving up for the Heavenly Bodies theme. She clearly went all out while using "#shampoo" and everything for this year's event. And the note about only shaving the parts of your body you can see, pregnant women everywhere will truly appreciate that one.
The model also went on to post what could be the most relatable photo of the night; a picture of her face with the caption, "I was gonna do a makeup breakdown but I'm honestly just very jealous I'm not there. Also I need to drink water." Yeah, I think she speaks for all of us: jealous and dehydrated. (The title of my memoir!)
Even though she wasn't at the Met Gala physically this year, she was definitely there spiritually. And despite missing out on getting to show off her own take on the Met Gala theme this year, we still got to spend the night talking about the Met Gala with Chrissy Teigen, which in the end, is really all that we needed.