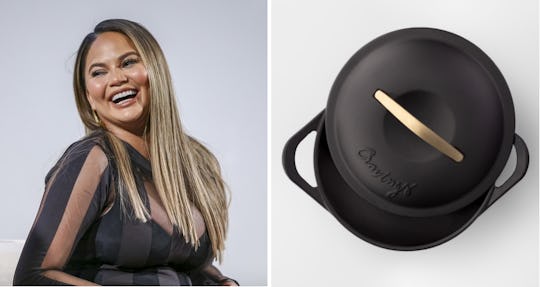 Rich Polk/Getty Images Entertainment/Getty Images / Target
Chrissy Teigen Is Launching Her Own Line At Target & Seriously, Just Take All My Money RN
I'm sure there are people who exist who have really just had enough of Chrissy Teigen. After all, the self-described over-sharer is everywhere, all the time. She might as well just own Twitter, she's got a New York Times best selling cookbook under her belt and another just released. She's the host of Lip Sync Battle and wife to recent EGOT winner John Legend. She's never not doing something. Which might be mind-boggling to some, but not this girl right here. In fact, not to most girls I know who love her. And who are going to lose their minds when Chrissy Teigen's new Target line is released. Because now we can all cook just like her, probably. It's the first step in the full Chrissy Teigen transformation I've been secretly planning for some time.
The Cravings collection from Target, which will include all kinds of kitchenware and gorgeous things for your table, is set to be launched on Sept. 30 across the United States and online. Honestly, I'm very impressed that Teigen kept such a massive collaboration a secret as long as she did, it must have been difficult. But now we know, and already I have total faith that I will love everything the Cravings Target line has to offer.
Teigen spent a significant amount of time hinting on Twitter that she had some big news on Thursday, and I sort of figured it had to do with the fact that John Legend is about to be the newest host on The Voice. Which was exciting and everything, but since I have zero singing talent I sort of didn't pay too much attention to her hints.
Clearly I need everything to somehow benefit me on some level before I'm willing to tune in. And I don't think I'm the only one. Fans were immediately excited to find out that Teigen and Target were partnering up.
The folks at Target are really excited too, according to the company's press release:
Turns out the secret to entertaining like Chrissy Teigen is just a Target run—or click—away! That's right: On September 30, the model, cookbook author and mom of two will launch the Cravings by Chrissy Teigen collection, available exclusively at Target.
I know what you're thinking; it's so great that Teigen is going to have a line of kitchenware, but what exactly will I be able to buy when I take all of my money to Target? According to the press release, Teigen's Cravings line is going to be as perfect as you might imagine:
The collection features all of the essentials that Chrissy uses to prep, cook and serve up her favorite recipes—think do-it-all cast iron Dutch ovens and must-have serve ware—plus items like cutlery, glassware and pitchers that are perfect for entertaining family and friends in A-list style. There truly is something for everyone, with Target's signature combination of chic design and incredible value. (There are over 40 items to choose from, ranging in price from $4 for drinkware to $140 for a 12-piece cookware set).
I mean, all you need now are two adorable children and a John Legend of your own and you too can be just like Chrissy Teigen. We all can.
Once you get set up with all of Teigen's very reasonably priced kitchen items at Target after Sept. 30, you're going to need something to cook. Coincidentally enough, Teigen's second cookbook Cravings: Hungry For More is now available for purchase. You can make delicious foods like Everything Bagel Cream Cheese Breakfast Bake, Grilled Pork Banh Mi Sandwiches, and if you're feeling like you need something healthy why not try Roasted Butternut and Pomegranate Salad?
If you plan on buying as much as I do from her Target line, you'll certainly have all the tools you need.